Onam festival in Kerala – The authentic festival of Kerala, Thiruvonam, is to be celebrated on 08 September 2023. The preparation of Onam began with Atham in the Malayalam month, Chingam, to welcome the mythical king, Mahabali. "Atham Pathinu Thiruvonam" speaks of the 10 glorious colourful days in the life of Malayalee. Preparations start with setting Pookkalam on all the 10 days on the floors of houses and temples. Folk dance -Chavittukali, traditional feast- Onam Sadya, Thiruvathira, Boat race (Vallamkali), Pulikali, etc marks the main about Onam.
Onam is the time when families gather together to enjoy the seasons festivals. Along with that, tourists from all over the world visit Kerala to experience the traditional festival, the boat race in the backwaters, and the old temples. Following the COVID pandemic, this year, people are making every effort to embrace Onam in Kerala. People are quite eager to make this celebration the most memorable one they have ever had.
What the covid pandemic has devoured over the preceding two years has now fully recovered. It would be a great miss if you crossed Kerala off your bucket list during this holiday season. It is certain that your trip to Kerala will be a whole different experience if you visit during this season of harmony and celebrations. Learn more on how and what Kerala offers during this season.
An elaborate, grand and delicious part of Onam festival. Onasadhya is served grandly on the 10th day-Thiruvonam in a banana leaf with starters to main courses. The traditional feast consists of more than 20 dishes along with mouthwatering dessert, payasam.
Aranmula Vallasadhya is a famous feast served on Ashtamirohini day and during this Onam season. The main highlight of Aranmula Sadhya is people singing Vanchipattu (boat songs) requesting to bring the divine dishes. You can participate in a flawless Vallasadya and even see boat racing at the Aranmulla Parthasarathy Temple in Pathanamthitta during this festive season.
The beauty of a flower is enticing. Onapookkalam is a major highlight during Onam as varieties of "Pookalam" or "Athapokalam" are created by people all over in their houses, temples, etc. The significance of placing a pookalam, or flower carpet, is to commemorate King Mahabali's return after being sent by Vamana to Pataal.
The biggest Pookalam is made on the 10th day of Onam, Thiruvonam . Usually, it is believed to put 10 rings and each ring represents the 10 deities- namely Ganesha, Shiva & Shakti, Shiva, Brahma, Pancha Boothangal, Shanmughan & Muruga, Guru, Ashta Digpalakar, Indra and the last ring represents Lord Vishnu.
Chavittukali and Kummatti kali
The popular mask dance known as Kummatti Kali is done another dance ritual during the festive season, but it is most common in the districts of Thrissur and Palakkad. The dance themes are typically drawn from the Ramayana, Stories of Shiva, and even folk tales. The dancers move between different houses entertaining onlookers. The mask they wore depicted the faces of Krishna, Kiratha, Narada, or hunters. The original form of Kummattikali can be visualised in Badhrakali temple, Palakkad district.
Chavittukali is a popular form of folk dance performed during the Onam, especially in Malapuram and central Kerala. It is called a common man's art form and dances with clapping, hand gestures, and keeping rhythmic steps in a circle by rendering the songs themselves.
Kathakali and Thiruvathira
The famous art form that is a blend of Sahithyam, Sangeetham, Chithram, Natyam, and Nritham is Kathakali. Kathakali is a form of dance drama and can be witnessed during the Onam festival time in temples and in other carnivals. This art form is organized during the festival time in Shornur, Kovalam, Cheruthuruty, Guruvayoor, etc.
A Malayali's first thought when hearing the word "onam" is "Thiruvathira Kali" or "kaikottikali." It is a traditional group dance form in which women of both young and old age in their traditional Kerala style attire "mundu" and "neriyathu" perform Thiruvathira with great coordination in a circle with a  nilavilakku placed in center position.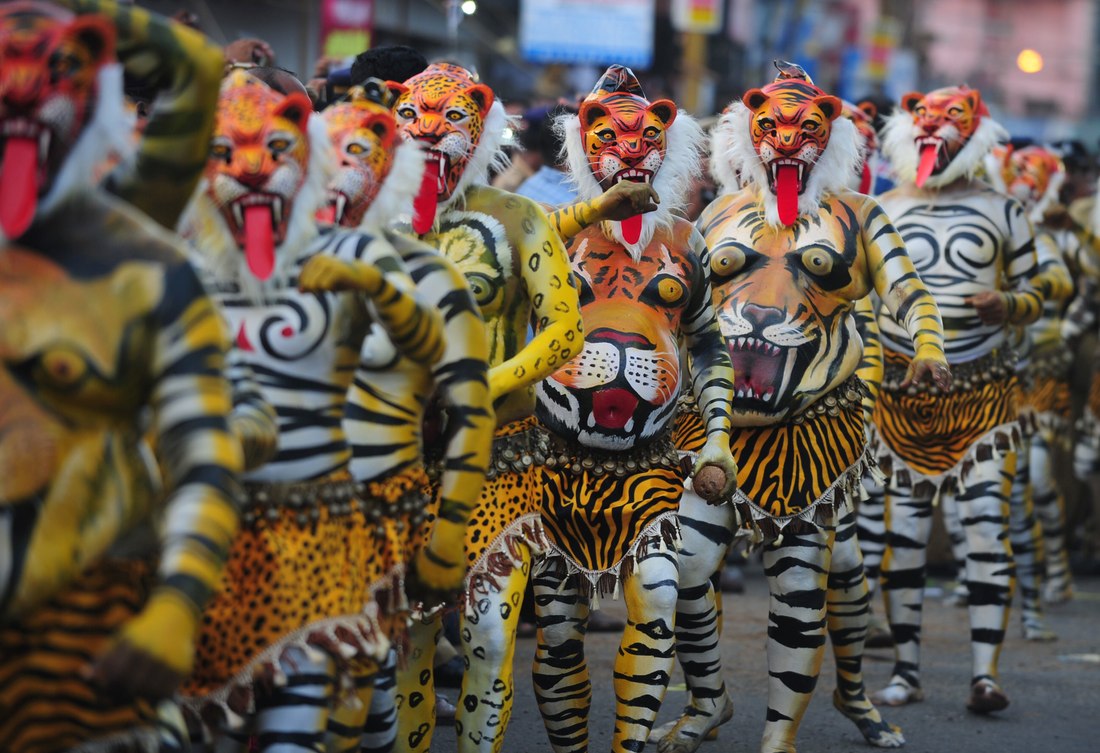 Pulikali also known as Kaduvakali, is one of Kerala most unique and exciting festivals. The fascinating  "Pulikkali" or "Tiger Dance" event is held annually in the months of August and September to celebrate Onam at the Swaraj Ground in Kerala's Thrissur District. Numerous men with bulging bellies and kids donning tiger masks adorn their bodies to resemble tigers and hunters and danced on the streets to the rhythm of indigenous percussion instruments like thakil, udukku, and chenda.
The then-Maharaja of Cochin, Maharaja Rama Varma Sakthan Thampuran, created this amusing street folk art that is performed on the fourth day of Onam celebrations. One of the distinctive aspect of this traditional art is the performer's vibrant attire.  Pulikkali ostentatiously celebrates the relationship between people and nature by combining man and beast in its aesthetic language. Small-scale Pulikali dance performances are frequent in the villages and cities of Kerala's Thrissur and Palakkad.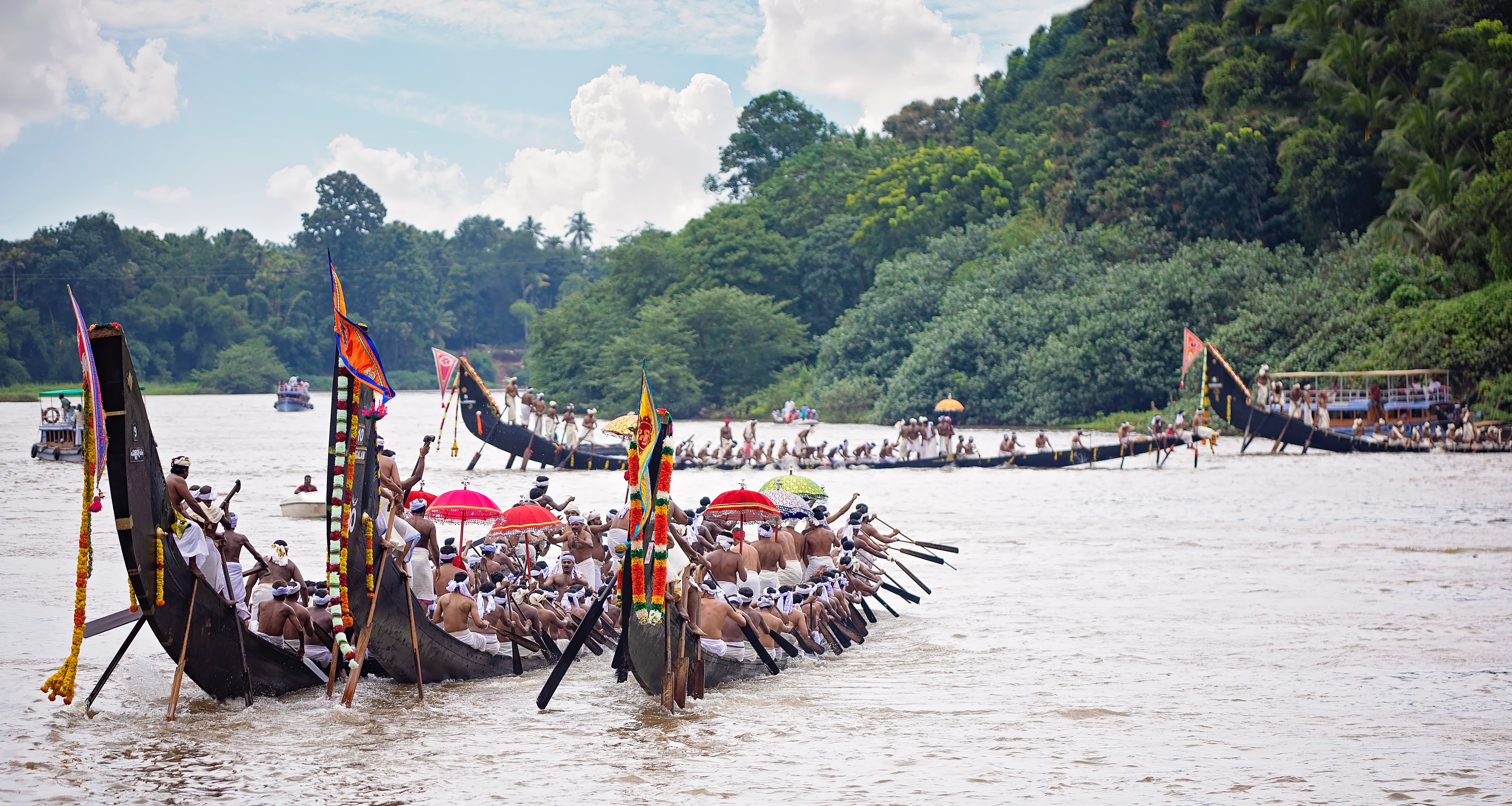 If you are here during the Onam season never miss the chance to see Vallamkali – the iconic boat race. Onam celebration in Kerala is incomplete without these boat race events, it marks the major and unique rowing event. Various boat race events are organized like Nehru Trophy Vallamkali, Aranmula Uthrattathi vallamkali, and others held in various backwaters in Kerala.
Hearing people applaud for their favourite team to win the competition may make you feel the most alive and enthused. The Nehru Trophy boat race trial race typically begins a few days prior to the Chundam Vallam competitions in Punnamada Lake, Alappuzha.
Thinking about planning a stay in god's own country Kerala? Check out VOYE HOMES! Click Below
Check out our latest blogs