Whenever we think of summer holidays in Kerala, the hill stations of Kerala will definitely strike our minds. As this beautiful hill stations has cool breeze throughout the year, these hill stations in Kerala are perfect places to relax and chill with your family, friends and relatives. We can acknowledge with pleasure that Panchalimedu is one such place in the Idukki district of Kerala that the visitors from all around the world looking for. It is a historical place; however it has started gaining popularity as one of the panoramic and unpolluted hill stations in Kerala over a period of time. Being a natural beauty, Panchalimedu is a paradise for nature lovers and photographers.
Panchalimedu has become a summer resort for everyone who wants to explore the unseen glories of nature, since it is surrounded by deep valleys and sky-high hills. Panchalimedu is a hill station, so the climate in and around it is cool and pleasant all year. As a result, the greatest time to visit Panchalimedu is at any time of the year. Panchalimedu is a fantastic destination for a pleasant summer holiday in Kerala because of its wonderful weather, even in the heat.
Panchalimedu is a hill station near Peermade in Kerala's Idukki district. It is an important religious place and is thought to be the location where the Pandavas and their wife, Panchali, lived during their exile in the Mahabharat epic. Also, for any traveller who enjoys discovering new places, the panoramic misty hills, lush meadows, and lovely hill station would be a must-see tourist attraction. Panchalimedu is also a significant religious site due to the presence of an old temple dedicated to Goddess Bhuvaneshwari. Moreover, hundreds of devotees visit each year to receive blessings from their deity.
Panchalimedu is located 7 km from Mundakayam-Kuttikkanam stretch on the Kottayam-Kumily road and lies at an altitude of about 2500 ft above sea level. According to the myths, the Pandavas and Panchali took a break in the area while on exile and hence the name Panchalimedu.
Panchalimedu Tourism
You cannot find the perfect mix of nature and history everywhere in Kerala and Panchalimedu is one among those limited editions which provide you with enchanting experience. The major places to visit in Panchalimedu include Goddess Bhuvaneshwari Temple, Panchalikulam, Pandavaguha, the footprints of Bhima etc.
The hill station of Parunthumpara and Peeru Hills offers picture perfect views. Valanjanganam Waterfall is the other major attraction here. Valliyamkavu Devi Temple visit is the other main highlight here. As per the Indian mythology, it is said that Panchalimedu was inhabited by several tribes thousands of years ago, before the Pandavas along with Draupadi came here during their exile. You can find Panchalikulam – the pond of Panchali, where Panchali believed to be taken bath and was constructed by the Pandavas. Pandavaguha where Draupadi and Pandavas used to reside. Pandavas offered an idol of Goddess Durga to the tribals here after they were happy with their hospitality. This idol was placed in a location, which is the current site of Bhuvaneshwari Temple.
At Panchalimedu, there is a lot to see and do. Panchalimedu is half a kilometre away from Paradisa Plantation Retreat. Vallinankavu, a small village famed for the Mala araya community's temple, is a 3-hour journey from Panchalimedu. The giant rock sculpture at Grampi known as Parunthupara, which is 1200 metres above sea level, the Thrisangu hills or Baker hills, the hills at Peeru, which are about 1 km away, the viewpoint at Nallathani on the kottayam-kumily highway, the tomb of Peer Muhammad and also the magnificent Azhuta diversion project in the Azhuta river are all fascinating tourist attractions.
This hallowed location is equivalent to heaven on earth, with an appealing series of hills that restore the body and mind. Also, many Ayyappa devotees stay here on Makar Sankranti day to view the sacred Makaravilakku (holy light) that appears in the Ponnambalamedu near Sabarimala shrine. Kerala Tourism Development Corporation develops and maintains Panchalimedu, a government-sponsored eco-tourism project in Kerala (KTDC).
Location
Location: Panchalimedu, Peruvanthanam Panchayat, Idukki District, Kerala, India
Story Behind the name Panchalimedu.
If the Mythology are to be believed, then 'Pandavas' – the real heroes of the epic Mahabharata stayed at this place during their exile from the Kingdom, which is how the place got its nam. It is derived from Panchali (Draupadi) and Medu (hill), literally means the 'Hill of Panchali' – Panchalimedu. There is a cave well known for bearing the footprints of Bhima. A small pond is there, which is known as 'Panchali Kulam'. It is said that Panchali (wife of Pandavas) used to take bath in this pond. Even in summer, water is available in this pond.
Pandavas offered an idol of Goddess Durga to the tribals here after they were happy with their hospitality. Later the place where this idiol is placed had a small temple dedicated to Bhuvaneshwari and Bhuvaneshwari Temple is the other major attraction here. Panchalimedu is known as the 'Moolasthanam', or the original seat/ source of the power of the deity. The remnants of Shivalingas, thrishul, naga idols are also there.
Things to do
Enjoy climbing the hills – Adventure activities, Trekking and Hiking
Experience the cool breeze around.
Enjoy the soft touch of fog and the panoramic views of the misty hills.
Explore the nature and landscape.
Best season to Visit
Panchalimedu, being a beautiful hill station in Idukki district of kerala, the climate is perfect throughout the year, except in Monsoon. To enjoy the chilled climate, monsoon is good! Heavy wind and rain is expected in monsoon. Ideal season is from October to January.
Entry Fees to Visit Panchalimedu
There is a minimal fee of Rs. 10 per person. The entry fee is collected and ticket is issued in the entry gate.
Child: Rs. 5.00
Adult: Rs. 10.00
Camera: Rs. 50.00
Wedding Album: Rs. 500
Other Album: Rs. 2500.00
Cinema/Serial: Rs. 10000.00
How to reach
By Air: You can take a flight to Cochin International Airport and from there you can hire a taxi to Panchalimedu, which is located at a distance of about 125 km. This will take approximately 3 hours to reach your destination.
By Rail: The nearest railway station is at Kottayam, which is located at a distance of 70 km. Once you have reached the railway station, you can hire a cab or taxi to Panchalimedu.
By Road: The region in and around Panchalimedu has a good network of roads and hence, it is easily accessible by road. This is located 12 Kms from Kuttikkanam (When you come from Kumily, Thekkady) and 8 Kms from Peruvanthanam (When you come from Kottayam).
Where to stay at Panchalimedu
There are many resorts and home stays available at Panchalimedu but make sure that the place you stay should be a destination itself. Please contact for information regarding the accommodation availability at this place. Here is one such place to stay at Panchalimedu.
VOYE HOMES Misty Villa Panchalimedu
Hill stations, which offer panoramic hill views and a pleasant climate all year, are ideal places to unwind and chill with family, friends, and relatives. Stay at VOYE HOMES Misty Villa Panchalimedu will be a wonderful experience in your life time that will take you to the other world.
Panchalimedu is a trending beautiful hill station of district Idukki Kerala located near Kuttikkanam and a famous hill station in Kottayam Kumili (KK) Road. Moreover this is a well known historical place in Idukki. However, it has started gaining popularity as one of the pristine and unpolluted hill stations in Kerala over a period of time. Misty hill view resort is one of the best among Panchalimedu resorts which is surrounded by deep valleys and sky-high hills. This Misty hill resort is a well known hill station resort with a sound track record of 5 years. The cool climate round the clock and refreshing breeze is a specialty which promote Panchalimedu tourism. Undoubtedly this place offers an ethereal atmosphere. Moreover, this place has an enchanting set of hills, which refreshes the body and mind.
VOYE HOMES Misty Villa Panchalimedu has its own long private trekking route, seating arrangements under tree shades with valley view, and a small brook flowing with enchanting sound which are added attractions no one else around us can provide. Being a hill station, the climate in and around Panchalimedu remains cool and pleasant throughout the year. Hence, it can be visited anytime during a year. Due to its satisfying weather, even during the summer season, Panchalimedu is an amazing place to retire to for a relaxing summer vacation in Kerala.
Highlights
Private Holiday Home
Spectacular View
Hilltop Cottages
Close to Panchalimedu
Campfire & BBQ
Local Tours The Perfect Stay, Guaranteed
Activities Available
Nature Walk
Hiking
Panchalimedu
Village Walk
Parumthumpara
Village Life
Valanjnkanam Waterfall Visit
Urumbikara
Vagamon Visit
Nearby places to explore
Panchalimedu View Point (03.00 km)
Valanjamkanam Waterfalls (07.50 km)
Vagamon (32.50 km)
Kuttikkanam (10.00 km)
Uluppunni (41.50 km)
Urumbikara (22.00 kms)
Palozhukumpara Waterfalls (23.00 km)
Manjumala (24.00 km)
How to reach VOYE HOMES Misty Villa Panchalimedu
This can be accessed through Uluppuni road. Nearest airport is Kochi International Airport which is 121.00 kms away and the nearest railway station is Aluva Railway Station which is 112.00 kms from our villa. Nearest major city is Kuttikanam and the nearest bus station is Murinjapuzha.
Private buses, taxies, jeep's and tuk tuks are available for commuting. VOYE HOMES Misty Villa Panchalimedu is just 200 meters away from main road and the private road condition to property from main road is good.
Murinjapuzha – 03.50 kms
Kuttikkanam – 10.00 kms
Mundakayam – 16.00 kms
Kochi – 127.00 kms
Landmark: Murinjapuzha – Panchalimedu Route (Nallathanni Church)
Pagoda Misty Hill Panchalimedu
Pagoda Misty Hill Panchalimedu – Misty Hill is part of the Prince Hospitality group which operates two other highly rated resorts in Aleppey, the Pagoda Resort and the Haveli Backwater Resort.
Location: Misty Hill Resorts, Peruvanthanam P.O, Kuttikanam, Idukki, Kerala
Thrisangu Haven Hill Resort
A distinguished 3-star Eco-friendly family resort in Kuttikkanam (Idukki), nestled in cool virgin territory at a high altitude (3750ft), amidst mist-laden hills and spice-scented air, a virgin area on the Western Ghats slopes. It is 7.5 acres of lush green land located just 800 metres from Kuttikkanam Junction on the Kottayam – Kumily route. Calmness and peace are the defining characteristics of this location. Nature in all her splendour and beauty may be seen here.
Location: Kuttikkanam, Near Thekkady
Springdale Heritage
Vandiperiyar, a historic plantation community, is set among undulating hill slopes, tea plantations, and beautiful weather. The beautiful environment, abundant flora and fauna, and temperate atmosphere of this mediaeval town make it an ideal vacation destination. High in the mountains, a lovely resort is tucked in perfect harmony with its natural surroundings. Springdale Heritage is a beautiful, elegant resort with a spring nearby.
Location : It is close to the hill stations of Peermade and Thekkady and is easily accessible. A small detour from NH 220 takes you there. It is 86 kms away from the nearest rail head, Kottayam and 162 kms from the airport, Nedumbassery (Kochi).
PEKOE Cottages
PEKOE is located in the plantation village of Peermade in Idukki District of Kerala. Here we enjoy a tropical climate. The temperature varies from an average low of 16 0C in December to an average high of 25 0C in May. Peermade is at an altitude of 3500 ft above sea level. These cottages are ideally placed within our tea plantation, just a kms drive from the National Highway.
Places to visit in Panchalimedu
Parunthumpara
The small village of Parunthumpara is hence famous for its rock that resembles an eagle. It is about 22 km (14 mi) from Panchalimedu, situated at a height of 3,600 ft (1,100 m) from the sea level and the most popular tourist destination in Idukki kerala. Parunthu refers to an eagle in Malayalam and 'para' means a rock, which describes the natural terrain of Parunthumpara.
This is an ideal tourist spot for a trek or picnic. Paranthumpara is easily accessible and close to kerala's other tourist attractions. Parunthumpara is an essential stopover for tourists travelling between Kumarakom and Thekkady.
Highlights of Parunthumpara
The Sabrimala Forests can be seen from Parunthumpara on a clear day, which is a major attraction. During Sankranti, pilgrims from Sabrimala come Parunthumpara to observe the Makarajyothi, and the site is generally crowded.
Parunthumpara is located between Thekkady and Peermade. At a distance of 6 km from Peermade and 25km from Thekkady. Located close to Vagamon.
Best time to Visit
The best time to visit Parunthumpara would be from June to September which is when the monsoon season starts. The panoramic views around the destination makes it a wonderful picnicking, trekking and scenic spot. During summer the lush green mountains turn dry and walking or staying out in the open may get difficult due to the dryness and heat. So avoid this season for a comfortable getaway.
Nearby Places to Visit
The Valanjamkanam Falls: This is located 15 km away from Paruthumpara, and the monsoons are the best time to visit to enjoy the water falling from a height of 23m, these falls are also only 4 km away from Kuttikkanam.
2. Thekkady and Kumily: These tourist spots are located approximately 25 km away from Parunthumpara on either side. Tiger Reserve in Thekkady and the Yodha Cultural Village in Kumily are the major attractions.
3. Vandiperiyar : This is situated 10 km from Parunthumpara. It is a major town well known for the coffee plantations, spice markets and the Periyar River.
The hills, highlands and greenery are the main attractions of Paunthumpara. There is a walking path that leads to the rock, and a trek along it unfolds the different facets and angels of the eagle rock.
How to Reach Parunthumpara
The nearest railway station is Kottayam which is 60 km from Parunthumpara, and the nearest airport is in Cochin which is located 126 km away. Parunthumpara is easily accessible from the Nedumbassery – Munnar road and the Kumarakom- Thekkady road.
Peermedu and Peeru Hills
Peeru Hills is one of the hidden tourist spot and it is the ultimate list of destinations to visit in a lifetime for every travellers. This hidden gem in Idukki Kerala is famous for its panoramic views of mountains. This is named after Peer Mohammed, the Sufi saint, who spent his last days here. Indeed, the amazing vibe and cool temperature makes it favourite spot for trekking lovers.
One can also enjoy the beautiful places nearby which include a mausoleum dedicated to the saint, the summer palace of the royal family and the residence of the Diwan. Peeru Hills located just 4 km from Peermedu and 1 km from Kuttikanam in Idukki district of Kerala.
How to reach Peermedu
Cochin International Airport is the nearest airport to reach out to Peermede, which is 89 kms from Peerumedu. Taxis are easily available outside the airport till the required destination.The town is located nearly 2 hours drive from Kottayam (85 kms). Regular buses are available to the hill town from the neigh boring cities of Kottayam and Kumily.
Kottayam Railway Station is the nearest railway station to reach the town which is located about 85 kms away. Taxis and buses are easily available outside the station. Peermedu is a small town where apart from lots of walking, trekking and hiking, you may hire a taxi for exploring the town.
Best time to Visit Peermedu
As a hill station in Idukki , Peermede experiences pleasant weather throughout the year. In the summer season which is from April to June, the temperature ranges from 15 0C to 5 0C while in winters, that is from September to November it ranges between 15 0C and 1 0C. Both the seasons are recommended as the best time to experience the untouched beauty of the destination.
However, in the monsoon season, there will be heavy rainfall which may restrict you from exploring the outside world. So make sure you avoid travelling during monsoon season as rain may be a spoil sport for your trip.
Things to do in Peermedu
The top sightseeing places in Peermede includes Grampi, Thrissanku Hills, Peeru Hills, Pattumala, Trekking in Peermede, Wagamon etc.
Grampi : This Offers breath taking views from the top, it is located nearly 5 km from Peermede.
Thrissanku Hills: This destination is a perfect spot for long walks and mindless strolling, It is located just 4 km from Peermede.
Peeru Hills: If you are looking for an ideal spot for picnic or the best trekking trails , Peeru Hills is the right choice.
Pattumala : Pattumala has got many attractions including rolling peaks, beautiful tea gardens and small streams which is located 17 km from Peermede.
Trekking in Peermedu : For the one who loves adventurous activities , the town offers several beautiful and challenging trails. Peeru Hills, Grampi, Vagamon, Memala and Karandakapara Hills etc. are some of the most popular trails in Peermede.
Vagamon: Vagamon is the most popular tourist destination in Idukki district of Kerala. The place is flanked by never ending tea gardens, sprawling meadows and valleys, an admiring piece of art which is located at a distance of 25 kms from Peermede.
Shopping in Peermedu: Peermede is a lush green picture perfect town where, coffee, tea and cardamom is grown in abundance. This is a right choice for the one who love shopping.
Valanjanganam falls
Valanjanganam, also known as Ninnumullipara, is famed for its lush flora and panoramic views. This beautiful waterfall may be found in Kuttikkanam, Kerala's Idukki district. After a long drive, Valanjanganam Falls is a great place to unwind in the foggy climate. Tourists generally stop here for a cup of tea and to take in the view of the falls. Of course, it's a great place to stretch your legs and unwind after a long journey. It is located on the Kottayam-Kumily state route, about 6 kilometres from here and 4 kilometres from Kuttikkanam.
The water falls are located at a height of 75 feet, giving travellers a unique sense of mystique. The Kerala Forest Department has constructed an artificial pine forest near the waterfall that covers a wide area of 100 acres. It appears to be a long-awaited dream coming true.
Things to do in Valanjanganam fall
Enjoy the beauty of mesmerizing waterfalls and panoramic greenery with a cup of tea or coffee is an everlasting experience.
Best time to visit Valanjanganam falls
The perfect time to visit the waterfalls is during monsoons which start from June to February.
How to reach Valanjanganam falls
This is located in Kuttikkanam in Idukki district, Kerala state. It lies on the Kottayam-Kumily state highway, about 4 km from Kuttikkanam.
Valliyamkavu Devi Temple
Valliyamkavu Devi Temple is a historic Durga temple located near Travancore Rubber and Tea Company. The temple and its surroundings fall under the Peerumedu tehsil of Idukki district. The history of the temple is as old as Dvapara Yuga. As per the mythology, in dvapara yuga, Pandavas along with their wife Draupadi, reached the place called Panchalimedu and stayed there for a long time during the time of exile.
The tribes settled at this location offered helps to Pandavas. So then before Pandavas left the place, they gifted an idol of Durga Devi to the tribal chief and acknowledged them to worship the Goddess.Unfortunately the tribes were unaware about the pooja methods followed their own traditions which transformed Devi into 'Bhadra', a more aggressive form. Thus the place became uninhabitable for the tribes.
The Devi is thought to have arrived in the current Valliyamkavu region via forest ropes. Valliyadikkavu became the name of the region as a result. Valliyadikkavu evolved into Valliyamkavu through time. Later, 'Vanchipuzha Thamburan' gave the Aadivasi moopan permission to worship the Goddess. The temple was given 22 acres of land to build on.
Things to do in Valliyamkavu Devi Temple
Valliyamkavu Devi Temple is an important religious site, great historical place and a popular tourist spot. This is a must visit religious spot for every devotees.
Best time to visit Valliyamkavu Devi Temple
Temple is open to worship Goddess Durga every day. Temple timing is from 05.30 am to 12.30 pm and then from 05.00 pm to 08.00 pm.
How to reach Valliyamkavu Devi Temple
Valliyamkavu Devi Temple located 15 km (9.3 mi) east to 35th mile near Mundakkayam, nearest location Paloorkavu Road, Mundakayam, Kerala. Both private and state-run busses operate to the temple from Mundakkayam.
Aruvikkuzhi Waterfalls-Chellarkovil
Aruvikkuzhi waterfall is an amazing waterfall located in Chellarkovil of Chakkupallam panchayathu in Idukki district. It is the border area of Kerala and Tamilnadu. The wonderful view of agricultural lands of Theni district and Cumbum is the other main attraction of the place. Chellarkovil is an ecotourism spot, which is located 11 kms away from Thekkady. Also, in this place treetop huts are available as a part of ecotourism promotion. The water fall originates in Kerala and falls in Tamilnadu.
This place is developed by the Government of Kerala. The first stage of the development is over and the place is open for the public. Second stage of development include check dam, pedal boats and watch tower. It is a part of spices tourism circuit.
Things to do at Aruvikkuzhi waterfall
Enjoy the waterfalls and explore the amazing view of the plains of Theni and Cumbum. Stay at the Treetop House and relax your body, mind and soul.
Best time to Visit:
Except June and July all the other times are good to visit this place. The heavy rain may obstruct your views.
How to Reach Aruvikkuzhi
Aruvikkuzhi is located just 11 kilometers from Thekkady.
Thilakan Memmorial Park and Lake
Thilakan Memmorial Park and Lake in Manikkal is a developing tourism destination in Peruvanthanam Panchayath, near Mundakkayam. The Padmasree Thilakan spent his early childhood at this place. After the death of Mr. Thilakan , Peruvanthanam panchayathu, has taken an initiative to develop a park and lake for his memory. First stage of developments completed soon. As a result the park and lake is open for the public now.
Highlights of Thilakan Memorial Park
Park and lake are the main highlight here. Kutta vanchi (Bowl Boat) and Pedal boats are also available here. This is the best place for a quick break to relax you. This place can give you peaceful moments with family, chit chat on the flowing boat.
More development activities are going on this place. Surely this is going to be a wonderful experience for all the travellers and nature lovers.
Nearby places to visit
Ekayam waterfalls is located just 5 kilometers away from Peruvanthanam. The water fall in Anachari is attracting more travellers these days. The crystal clear water falling from the top of 70 ft height rocks is a pleasant gift for eyes and mind. Developments of this area are in progress.
The Valliyankavu Devi Temple is the other nearby tourist destination. The historic Valliyamkavu Devi Temple is located near the Travancore Rubber and Tea Company. We can reach the temple by travelling 15 kilometres from the 35th mile near Mundakkayam.
Kuttikkanam
Kuttikkanam is one of Kerala's most beautiful and undiscovered hill stations. This is one of the best places to visit for a relaxing vacation because it is positioned 3500 feet above sea level and is totally covered in tea plantations. Prepare to be enchanted by the verdant tea plantations, pine forests, streams, cardamom plantations, and slopes of the hill station. Kuttikkanam may not be as well-known as other Indian cities. This is a modest, lovely, and popular tourist site that is well worth seeing. Some of the fascinating sites to visit at this secret getaway will astound you.
Those who have once been to Kuttikkanam cannot forget the experiences but travel here again and again. The flowers of Kuttikkanam are delight to watch. You can explore many rare varieties of wild flowers growing in around this region. Not being a crowded tourist destination, adds to its attraction. The major attraction of Kuttikkanam is an artificial pine forest over 100 acres that houses more than 30 bird species. The forest comes under the buffer zone by state forestry department.
The pleasant weather and picture perfect views of Kuttikkanam draw tourists from different part of the world. No matter what you want to explore, whether it is an ample outdoor fun in the form of nature trails, plantation tours or adventure trips or pace down a bit in the lap of nature, this would be the best choice. Kuttikanam is well structured tourist spot for a romantic holiday, a family day out or for business meetings alike.
History of Kuttikkanam
History of Kuttikkanam is directly related to its tea plantations. In the 16th century, during the rule of Changanacherry kings , the region was unpopulated. In 1756 ,Changancherry was conquered by Travancore rulers. Once it came under their power, a Christian missionary – Henry Baker started coffee plantations in this region. Later tea was introduced to Kuttikkanam. During The British rule in India, Kuttikkanam developed into an up-market resort.
Being a hill station, inadequate routes for transportation were the major issue here. Thus saw the beginning of Aerial ropeway ltd, a public limited company, the first of its kind in Travancore. As the Travancore rulers identified travancore's enchanting natural beauty, their summer palace was located here. When they introduced the tea plantations to the landscape, manpower required to work on its plantations. That is how people from Kerala and Tamil Nadu were brought to the place. Most of the current inhabitants of the region are their descendants.
Best Time to visit Kuttikkanam
Kuttikkanam is blessed with pleasant climate throughout the year. During the months from august to January the place seems to be just amazing. And if you plan to make Kuttikkanam your honeymoon destination, make it a point to visit the place during November-January. This will be the right time to explore the hill station as a whole. Monsoon season is best avoided.
Things to do at Kuttikkanam
Kuttikanam has many options for adventure activities and trekking trails. So if you are a adventure lover, pack your backpacks and set out on an interesting journey to this pretty tea plantation hill station. Breathe in the fragrance of fresh cardamom, coffee, Tea and the wild lilies as you make your way to the forests that is home to an exceptional flora and fauna. In fact nothing has been changed in this hill station for the last many years and the one thing that would sweep your off your feet right away will be the enviable slow pace of life in the hills.
The amazing landscape and the breezy weather conditions would make it a perfect tourist spot for everyone who loves to explore the unexplored. The panoramic views of the sunrise and the sunset would indeed be a life time experience for you. The rolling grass lands hemmed with pine forests and the gurgling streams would make it a dream vacation spot for all reasons and seasons. Live your passion and fill your heart with warmth in this beautiful destination that is fondly called the Kerala's Own Ooty for its nippy weather and mist.
Nearby places to visit
There are many captivating places to visit in and around Kuttikanam which includes:
The kuttikanam thrishanku hills, which is a eye catching view.
Parunthumpara, also known as Grampi or Eagle Rock is another major tourist attraction in Kuttikanam. It is situated 1200 m above the sea level and is a beautiful hilly station presides that stands toll amidst the green grasslands.
You can also explore an artificial pine forest spread over 100 acres that houses more than 30 bird species, which is considered to be one of the major highlight of Kuttikkanam. The forest comes under the buffer zone by state forestry department.
Panchalimedu view point not only offers captivating view but is also of historical significance. Mythology says that Panchalimedu served as a hiding spot of Pandavas and their wife Panchali of the great epic Mahabharat.
A pond named after Panchali called Panchalikkulam is one of the places from where "Makarajyoti" of Sabarimala can be viewed.
The captivating tourist attractions include the hills at Peeru which is about 1 km away, the viewpoint at Nallathani on kottayam-kumily highway and the magnificent Azhuta diversion project in Azhuta River. Do not miss the tomb of the famous Muslim saint Peer Muhammad too.
Valanjanganam waterfalls or Ninnumullippara falls from over a height of 75 feet. This misty waterfall is as beautiful as a dream.
If you have plans to visit Kerala and are not sure if Kuttikkanam should be included in your itinerary, please add this amazing destination to your itinerary right now. Hill stations are the main attraction of this place. Grass Lands give freshness to our mind.
How to reach to reach Kuttikkanam
The nearest International airport is at Cochin which is located about 90 km away. Kottayam railway station is at a distance of 77 km. The bus station at Kuttikkanam is just 3 km away.
Vagamon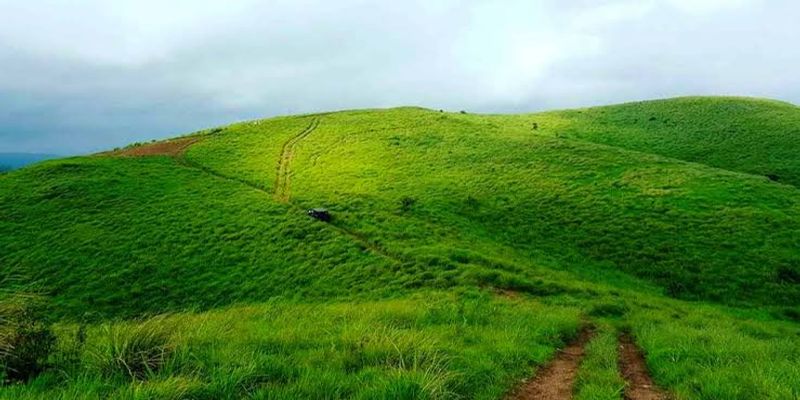 As we all know, Vagamon is a beautiful picnic spot famous for trekking and hiking, situated near Peerumedu in Idukki district. The grassy hills, velvet lawns and overall mysticism of the place are something very unique and picture perfect. Visitors can enjoy many activities including trekking, paragliding, mountaineering and rock climbing.
No words to explain the panoramic views of vagamon resorts or vagamon hotels that are facing to vagamon hills. The climate here is tropical and most months of the year, there is significant rainfall in Vagamon which is always keep the grassy hills beautiful. The average annual temperature is 22.6 °C or 72.6 °F in Vagamon.
Vagamon is well known as Switzerland of Kerala as it is almost 1100 metres above the sea level and It has cool climate always. Vagamon kerala is famous for its green meadows, Pine forests and a Paragliding hotspot.
The best time to visit Vagamon
The best time to visit Vagamon is from the month of November to February. You will be able to enjoy the foggy hills on December and January.
Things to do at Vagamon
Private hiking spots
Trekking Trails
Hiking Trials
Tea Plucking
4×4 Jeep Drive's
Chottupara Trekking
Mountaineering and rock climbing
Paragliding hotspot.
360-Degree View of Western Ghat Mountains
Stay at midst of Lush Tea Estate
Perfect getaway for team outing
Trek to Murugan Mala
Vagamon Pine Forest
agamon Waterfalls – Trekking and Camping
Walk through the Barren Hills of Vagamon
Boat Ride at Vagamon Lake
Tandem Paragliding at Vagamon
Ulippunni Wildlife Sanctuary
Trekking to Suicide Point, Vagamon
How to reach Vagamon
By Air : Vagamon is located approximately 107 km away from the Cochin International Airport. Once the you reach Cochin International Airport, you can enjoy a two-hour journey through enticing terrains to reach Vagamon. This journey can be covered through taxis, private cabs, or the local bus services.
By Rail: Vagamon maintains close proximity to the Kuttikanam Railway Station. Situated about 22 km away from Vagamon, this station links Vagamon to other towns in the region. When you reach these stations, internal transport facilities such as bus, taxi, or private cab can conveniently take you to your destination.
By Road : Vagamon is located at an altitude of 1100 m above sea level but is well-connected by road to Erattupetta. The road is rated as a state highway and is convenient to travel. Buses, cabs and private vehicles available to travel between Vagamon and major Kerala cities like Trivandrum, Kochi and Munnar.
Other places to visit in Panchalimedu include Amalagiri, Kanayankavayal, Thekkemala, Palakkuzhy Waterfall, Murinjapuzha, Aruvikkuzhi Waterfalls- Chellarkovil and Peruvanthanam. Panchalimedu is a beautiful hill station in Idukki district, Kerala, near Kuttikkanam, if you have a plan to visit the hill stations of kerala never miss this amazing hill station.
Read more: Find The Best Tea Plantations & Tea Bungalows In Munnar
Kanthalloor Resort – Discover The Best Forest Resort In Munnar