Alleppey, also known as Alappuzha, is regarded around the world as the "Venice of the East" because of its stunning natural beauty. The backwaters of Alappuzha have been the mainstay of Kerala tourism and is just more than backwaters and the beaches, it has a history that is worth learning about. Try The Best Places to Visit In Alleppey – 2023. This destination is famous for its several backwaters, canals, lagoons, beaches, paddy fields, and marine life -A trip to this coastal paradise is total bliss. Kerala's Granary, Kuttanad is close to Alappuzha, where cultivation takes place below sea level.
If you want to visit Alleppey, keep in mind that there is so much to do and see in this wonderland that you should plan to stay for at least a week. You can visit the most popular locations to see in Alleppey for the first 3-4 days, and then plan short trips to places near Alleppey for the next 4 days.
Starting from backwater cruising, strolling through the beach, amazing South Indian cuisine and seafood, natural beauty ,clean air, heartwarming views, mesmerizing waterways and canals makes Alleppey the perfect travel destination. You can buy beach products made from shells and oysters, spices, tea, coffees, handloom fabrics, crafts, wood and brass carvings, etc from Alleppey.
1. Krishnapuram Palace
Located in the district of Alappuzha in Kerala, near the town of Kayamkulam. Anizham Thirunal Marthanda Varma built the Krishnapuram Palace in the 18th century, the ruler of the former princely state of Travancore. Palace is a two-story structure built in the traditional Kerala architectural style and is known for its vintage architecture and murals. It is one of the most popular museums in Alleppey.
The carpentry skills used in the construction of this stunning palace are a standout feature. The palace's doors and windows have wooden hinges and locks instead of metallic ones. Krishnapuram Palace is more than just a single structure; it is part of a larger complex that includes a number of other structures. When the royal family lived there, the building was a vast complex with several units. Later, almost all smaller units lost leaving only the main structure. One of the most popular tourist destinations in Alleppey.
Location : District Kayamkulam, Oachira Rd, Near Krishnapuram, Kerala- 690533
Famous For : Cultural Experience Seekers, Architecture Enthusiasts and History Buffs
Entry Fee : Rs 10 for adults and Rs 5 for children
Visiting Time : Every day from 9 AM to 1 PM and 2 PM to 4.30 PM , closed on Mondays
Visit Duration : 1-2 hours
Largest Mural Painting in Kerala : Gajendramoksham – It is in Krishnapuram palace
How to reach : About 45 km from Alleppey on the NH-47 highway, this palace-cum-museum is easily accessible by road. It is about an hour's drive (35 km) from Kollam.
2. Kuttanad Backwaters
Unlike the other popular backwater destinations in Kerala, Kuttanad has multiple destinations where visitors can enjoy the silent backwaters. One of the best places to visit in Alleppey is Kuttanad Backwaters. And to experience the best of Kerala backwater tours, visitors can choose houseboat cruises across these backwaters and make their vacation memorable!
Location: Kuttanad , Alappuzha district, Kerala- 688504.
Timings : 10.45 AM to 9.15 PM
Entry Fee : INR 10 for lower and INR 15 for upper decks.
Best time to visit : August to March is the best time to Plan a Kerala trip and visit the enchanting Kuttanad backwaters. Good climate, amazing views, and hand full of activities make these few months the best time to visit Kuttanad backwaters. Never miss this amazing Places to Visit In Alleppey.
How to reach : Visitors can reach Kuttanad Backwaters by boarding any of the trains to Alleppey , the driving distance is just 22km, which takes around 1 hour.
3. St. Mary's Forane Church
St. Mary's Forane Church Edoor is one of the oldest churches and a notable Marian pilgrim centre in North Malabar of Kerala. This is one of the biggest churches and parishes of the Archeparchy of Changanassery which makes this destination one amoung the top Places to Visit In Alleppey. On the banks of river Pampa this church is located.
One of the oldest Catholic churches in Kerala built in 1810, said to have magical healing properties. It is a well-known pilgrimage site where visitors can learn more about Christian culture and lifestyle.
Every year, the church hosts two feasts. The first one is St. Mary's Feast and the other is St. Sebastian's Feast. This Church is a must visit if you're touring Alleppey. It displays exquisite sculptures and is located near the Pamba river. Here, in a village setting, you'll experience the old-world charm.
Location : Champakulam, Alappuzha.
Timings : 6.00 AM to 8.00 PM
Entry fee : None
4. Alleppey Lighthouse
The Alappuzha lighthouse, one of the oldest lighthouses on the south-west coast of the country. The Alleppey lighthouse, which is well-known, can be seen from kilometres away. These red striped lighthouses along the coast are not only famous, but they also provide breathtaking views of the area as well as a nice refreshing air! It's a popular destination for most people visiting Alleppey, and it's undoubtedly one of the best places to see in Alleppey.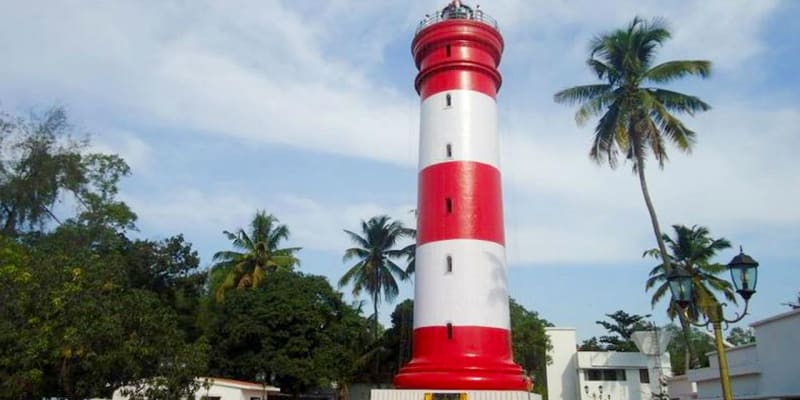 Location : CCSB Rd, Civil Station Ward, Alappuzha, Kerala 688012
Timings : Every weekday from 3:00 p.m. to 5:00 p.m., the museum is open to the public; Monday holiday.
Entry fee : INR 20 for Indian adults and 50 rupees for foreigners.
5. St. Andrew's Basilica Arthunkal
St. Andrew's Church, Arthunkal is one of the famous pilgrim centres located at Alappuzha in South India. The largest shrine of St. Sebastian in the whole world, and this church is one of the most popular Places to Visit In Alleppey. Though the Church is named after St. Andrew the Apostle, it is the feast of St. Sebastian that has brought fame to Arthunkal.
The Arthunkal Perunnal or the ten-day annual festival celebrated in January every year. With its majestic architecture and proximity to the Arthunkal Beach, St. Andrew's Basilica is probably the most popular spiritual edifice in Alleppey.
Location : Arthunkal Basilica, Arthunkal P.O, Cherthala, Alappuzha, Kerala – 688524.
Entry fee : None.
Timings : 5.30 AM to 6.30 AM
How to Reach : Nearest railway station: Cherthala, about 8 km and Alappuzha, about 21 km
Nearest airport : Cochin International Airport, about 68 km
6. Alleppey Beach
Alleppey Beach or the 'Alappuzha Beach' in Alleppey is a scenic marvel for the beach goers! Known for its swaying beauty and alluring charm, this scenic beach in Kerala entices a large number of visitors who flee to Alleppey to enjoy the backwaters.
Glittering sands, clear and bright water, mesmerizing waves, Amazing sunrise, and sunset is what makes the Alleppey beach one of the best places to visit in Alleppey. This beautiful beach is known for its vast, endless stretches, thereby proving the best getaway for couples as well as families.
A walk across the piers in this beach is highly recommended for the tourists. The beach is often referred to as the 'Venice of the East,' because of its romantic location and popularity among European countries.
Location : Alappuzha
Timings : All day.
Entry fee : None.
Best time to Visit : Alleppey is a year-round destination in Kerala. However, winter (November to February) and summer (March to May) are the best time to visit Alleppey Beach. Visitors should avoid the monsoons as heavy rains there.
Road – The Alleppey town is well-connected with NH-47 and other cities like Kochi, Kottayam, Trivandrum, and Kozhikode. Visitors can also board regular buses from popular South Indian cities like Bangalore, Chennai, Mysore, and Coimbatore.
Train – Alleppey Railway Station has regular trains to Kochi, Trivandrum, and other popular cities across the country. From the railway station, visitors can hire local cabs, auto rickshaws or a bus to reach Alleppey Beach.
Air – Cochin International Airport serves as the nearest airport to reach Alleppey Beach by air. Also, the airport hosts a number of daily flights from several major Indian cities and some of the international destinations. Regular cabs to the beach are also available at the airport.
7. Karumadikuttan
Karumadi Kuttan in Alleppey is a well-known Buddhist pilgrim center. A village situated just a few kilometers from Alappuzha or Alleppey, Karumady or Karumadi is one of the amazing Places to Visit In Alleppey. Tourists from all over the world come to see this attraction. Karumadi Kuttan is the name of a village near Alleppey also called Karumadi.
Several tourists, particularly those who are unwell or know someone who is ill, come to this location to touch the feet of the Lord Buddha statue, believing the monument to have healing powers. People travel from all over the country and the world to seek blessings, since this location is well known for its excellent healing abilities.
The fact that the left-hand half of this Sri Buddha Statue is missing adds to its enchantment. The locals hold Karumadi Kuttan in high regards because of his healing abilities. Despite the fact that it is only a half-broken statue, it has an aura that draws people in.
Location : Alappuzha District, Karumadi, Kerala 688562
Timings : 9:30 AM to 4:30 PM
Duration : 30 to 45 minutes
Entry fee: No Entry Fee.
How to Reach : Nearest railway station: Ambalapuzha, about 4 km; Alappuzha, about 17 km , Nearest airport: Cochin International Airport, about 101 km.
8. Edathua Church
The famous Edathua Church is also known as St. George Forane Church and is dedicated to St. George. Constructed in 1810 and the church is believed to possess miraculous healing powers. The annual feast that is celebrated here starts on the 27th of April and concludes on the 7th of May. The feast sees St. George carried out, decked in golden colored regalia.
Because the church is near to the sea level area, visitors can enjoy agricultural regions and farms divided by rivers. Currently, the church is located close to the Mahatma Gandhi University's St. Aloysius College. The church is also popular for its Christian and non-Christian pilgrims. Moreover, it is one among the Top Places to Visit In Alleppey.
Location : Church Road, Edathua, Kuttanad Taluk, Kerala 689573
Church Timings : 04:00 – 20:00 hrs.
Entry fee: No Entry Fee
Prayer Timings: 06:00 and 07:00 hrs. – Fridays 16:00 hrs. On Sundays 06:00, 08:00, 10:00 and 16:00 hrs.
How to Reach : Nearest railway station is Alappuzha, about 27 km , Nearest airport is Cochin International Airport which is about 111 km
9. Marari Beach
Marari Beach is a perfect location for holidaying with family or friends. A small village located close to Marari Beach is what makes this beach more attractive and inviting visitors from all over the world to learn and understand the culture and heritage of the Kerala state. If you want to thoroughly relax, the Marari Beach is a must-see site for you, since it is one of the best places to visit in Alleppey.
Watching sunrise and sunset here is quite a romantic experience that couples would really love and appreciate. The place is rated as one of the World's Top five Hammock Beaches by the National Geographic Survey.
This beach in Kerala is eternal with coconut palm trees and golden sands, nestled in the Alappuzha District of Kerala. The beach is quite beautiful and the Marari originates from 'Mararikulum', a local fishing village on the Arabian Sea coast. The fisher folk of Mararikulam and their natural ways of life are some of the attractions here. Also, an evening stroll is one of the best hangouts here .
Location: Alappuzha-Arthunkal- Cherthala, Thoppumpady road, Mararikulam, Alappuzha 688523
Timings : All day.
Entry fee: No Entry Fee
How to Reach :
Air – Kochi is the nearest airport to reach Marari beach. From the airport, also you can hire car or taxi to reach the beach.
Train – The nearest railheads are at Alleppey (16 kms), Kottayam (42kms), and Cochin (Ernakulam) (55 kms).
Road – Cochin is easily accessible by road, which is at the distance of 60 km. NH 47 is situated at the distance of approximately 1 km from Marari village.
10. Pandavan Rock
Pandavan Rock is an ideal picnic spot for a pleasant evening with the family or friends .The natural beauty surrounding this site is a bliss. The route to the caves is easy but elder people should avoid the climb if they suffer from any health problems. The rock caves are adjoined by the Kallada Dam, which is a tourist destination as well, and is quite famous as a picnic spot. Thus, it is one of the best Places to Visit In Alleppey.
The Story is like this, that the Pancha Pandavas had made a home of this cave in their wanderings in the forests during the 14 years of their exile which makes this, a mythological as well as a historical tourist spot. Popularly known as the Rock of the Pandavas. Consequently, the Rock has become a favorite destination for trekkers. If you are travelling with your family, You can definitely choose this spot to enjoy the trip.
Location: Urukunnu, Alappuzha, Kerala – 691307
Entry fee: No Entry Fee.
Timings : 6 AM to 10 PM
How to Reach – By local taxi or auto-rickshaw from Alleppey.
11. St. Andrew's Forane Church
St. Andrew's Basilica at Arthunkal in the district of Alappuzha, is the world's largest shrine to Saint Sebastian and one of the top locations to visit in Alleppey. It was built by Portuguese missionaries in the 16th century, and it was restored in 1584 under the direction of priest Jacomo Fenicio.
If you are looking for some peace, then this is the place you should go to. Settled near the shores of the Arabian Sea, this church is also an epitome of classic architecture. Located at a distance of 22 km from Alleppey, it is always been the best Places to Visit In Alleppey all the time.
Location : The Rector, St Andrew's Basilica, Arthunkal, Cherthala, Alappuzha, Kerala – – 688530.
Entry Fee: No Entry Fee
Timings: 5.30 AM to 7 AM and then, 9 AM to 5 PM (Weekends)
12. Pathiramanal
Pathiramanal is a beautiful island in Kerala surrounded by the Vembanad Lake . A small island on the backwaters of Alappuzha (Alleppey), Pathiramanal which means "Sands of the Night", is a heaven for hundreds of rare birds migrating from different part of the world.
Known as bird watcher's paradise since it possess approximately 91 local species of birds and around 50 species of migratory birds, lies between Thanneermukkom and Kumarakom. A visit to Pathiramanal is the best way to explore the quite green backwaters and coconut trees. Moreover it is one of the amazing Places to Visit In Alleppey.
The location of the island is extremely scenic, making it a lovely space to observe birds and the water. This island is sprawled over 10 acres of land. The ride across Lake Vembanad is just amazing also, the experience of walking through the island.
Location : Alappuzha
Timings : 6 AM to 6 PM
Entry fee: None
How to Reach : Nearest railway station: Alappuzha, about 16 km, Nearest airport: Cochin International Airport, about 85 km north of Alappuzha.
13. Vembanad Lake
Vembanad Lake is at the top in the list of the most famous tourist destinations of Kerala. This is one of the most beautiful Alappuzha tourist places that you cannot miss. Vembanad Lake is known as the longest lake in India and largest water reservoir in Kerala with 96 km length and 14 km width. It stretches over an area of 200 sq km.
Since it is a long lake, it covers many districts of Kerala and goes by different names in each district like Punnamada Lake in Kuttanad, Kochi Lake in Kochi. Moreover, this is an amazing backwater in Kerala. People from all over the world come here for a boat ride and to unwind themselves in the beauty of the backwaters.
You are lucky enough if you get a chance to visit to this place during August as the annual Snake Boat Race or Vallam Kali takes place at this time and is a major attraction to the tourist all around the world. The sight is just amazing. Do plan a houseboat trip on the lake while planning your trip on these days. India's famous Nehru Trophy Boat Race is hosted on the waters of this lake. One of the most popular Places to Visit In Alleppey.
Location : Puthenangadi, Muhamma Panchayat, Alappuzha.
Timings : Vembanad lake remains open for visits on the following open days of the week – Mon, Tue, Wed, Thu, Fri, Sat, Sun and the entrance timings and opening hours on these days are from 10:00 AM – 06:00 PM
Entry Fee: No Entry Fee.
How to Reach : Nearest railway station: Kottayam, about 13 km. Nearest airport: Cochin International Airport, about 63 km.
14. Ambalapuzha Temple
Popularly known as the Ambalappuzha Sree Krishna Temple, this is one of the seven great Vaishnava temples in Kerala. It is one of the most rewarding places to visit in Alleppey. This is one of the oldest Krishna temples in Kerala and among the oldest in India too. Ambalapuzha Temple is also a favorite destination of foreigners.
The temple was built during the 15th – 17th CE by Pooradam Thirunal Devanarayanan Thampuran, ruler of the erstwhile Chembakassery kingdom. Ambalappuzha Sree Krishna Temple has direct association with the well known Guruvayoor Sree Krishna Temple. The idol of Lord Krishna brought to Ambalappuzha temple from the Guruvayoor Temple in 1789 by Tipu Sultan and placed in this holy site for around 12 years.
Devotees believe that at the time of serving palpayasam at Ambalappuzha temple, Guruvayoorappan visit here in order to taste it. The temple is also associated with Ottanthullal, a great art performed in Kerala. A great Malayalam poet Kunjan Nambiar, first introduced this art form at the premises of this temple.
The temple is also popularly considered to be the "Dwarka of the South" Because of its importance in the Vaishnava tradition. If you are lucky enough to visit this temple , don't forget to have the Palpayasam, a delicious milky porridge prepared using rice, milk and sugar. Devotees love this prasad and it is said to be the major attractions of the temple. An annual festival in Ambalappuzha temple attracts a huge crowd to the place which is in the month of March or April.
Location: Ambalappuzha, 14 km from Alappuzha.
Timings: 3 AM to 12 PM & 5: PM to 8 PM
Entry fee: No Entry Fee.
15. Champakulam
This is one among the most peaceful villages of Kerala With lush paddy fields, flowing river of ever shine Pampa, the annual race of Snake boat, and coconut trees forming a perfect picturesque. In addition to that the ancient fifth-century church makes Champakulam the best places to visit in Alleppey. Also, the Champakulam Moolam Boat Race is the oldest tradition and unforgettable experience.
If you would like to roam around, don't forget to visit prestigious Church which is one of the oldest churches in India and believed to be one of the seven established by St. Thomas in AD 427.This church has observed a lot of tourists in herds as well as various changes with time strengthen its heritage furthermore.
The annual feast of Champakulam Valia Palli falls on the 3rd Sunday of October every year. The feast of St. Joseph is celebrated on March 19th. This church is considered as the mother of almost all Catholic Syrian churches in the Alappuzha district.
Location: Champakulam, Alappuzha.
Timings: 6.00 AM to 6.30 PM
Entry Fee : No Entry Fee
How to Reach : Alappuzha is the nearest railway station to reach the St. Mary's Church. Cochin International Airport is the nearest Airport. Nearest railway station: Alappuzha, about 16 km and Nearest airport: Cochin International Airport, about 99 km.
16. Mannarasala Temple
This is one of the unique places to visit in Alleppey , also known as Sree Nagaraja Temple. The Mannarasala Temple as the name suggests, is a temple devoted to snakes. Most snake temples are located deep inside forests; it is located in the middle of a forest glade and has more than 30,000 images of snakes.
The Mannarasala Temple is the biggest of its kind in Kerala and is considered to be a powerful place of worship so as one among the top Places to Visit In Alleppey.
The interiors of the temple are full of snake paintings. The story behind is that the first priestess at the great Mannarasala Sree Nagaraja Temple gave birth to a five headed snake. The temple is dedicated to the Serpent God – Nagaraja and believed that Nagaraja, as the primary deity, is endowed with the form of Hari (Lord Vishnu) and the spirit of Lord Shiva.
The temple is a great pilgrimage location for tourists; additionally, Women who do not have babies and desire to have one come here to pray for fertility. Once the wish comes true, they will get the baby to the temple and a ceremony felicitating the powers of Nagaraja is held.
Location: Mannarasala P.O, Haripad, Kerala 690514
Timings: 5 AM to 12 PM (1 PM on Sundays) & 5:30 PM to 7:30 PM
Entry fee: No Entry Fee.
How to Reach: Nearest railway station: Kayamkulam Junction, about 20 km and Nearest airport: Cochin International Airport, about 115 km.
17. The Harbour Restaurant
When it comes to food, this is one of the top tourist places in Alleppey. This place is unavoidable and truly recommended for food lovers. The location and ambience, Services , cuisine , everything is praiseworthy at this restaurant. The restaurant is located on Beach Road at Alleppey and is one of the most popular places to visit in Alleppey.
The Harbour Restaurant in Alleppey is the one and all with its spreads of seafood. While it is much loved for its range of chilled beer, the menu boasts of some real biggies like squid soup, grilled prawns, karimeen and other fish, scooped fresh from the backwaters, fish curry – best taken with coconut rice.
This beautifully maintained restaurant promises well-prepared India, Chinese and Continental cuisines. Would you really like to visit this place? Then don't forget to reach early in the evening or you might not get a spot at all!
Location : Beach Rd, Sea View Ward, Alappuzha, Kerala 688012
Entry Fee: There is none. The charges will apply when you order food or drinks.
Timings: 10 AM to 10 PM
18. Kumarakom Bird Sanctuary
Kumarakom Bird Sanctuary is one among the most popular bird watching spots in india which Spread over 14 acres and Kumarakom Sanctuary is situated on the banks of the beautiful Vembanad Lake. One can come across numerous rare avian species from the Himalayas, Siberia and all around the world. Some of these birds are a Siberian stork, egret, darter, heron, golden woodpeckers, and teal. Boating trips around the sanctuary is just amazing and relaxing, this is among the most visited places in Kottayam district.
Location: Kavanattinkara, Kumarakom, Kerala – 686563.
Timings: 6.30 AM to 6.30 PM
Best time to Visit: If you want to watch migratory birds, then the best time to visit the sanctuary is between November and February. People who visit in June and August are treated to many rare sights.
Entry fee: INR 50 for Indians and INR 100 for foreigners.
How to Reach : Nearest railway station: Kottayam, about 13 km and Nearest airport: Cochin International Airport which is about 94 km.
19. Nehru Trophy Snake Boat Race
The Nehru Trophy Snake Boat Race also known as Vallam Kali, this is an annual competition that held in the memory of Jawaharlal Nehru which takes place every August on a part of Vembanad Lake. Years back Pandit Jawaharlal Nehru visited this place in 1952. He was so delighted by the sight of the majestic snake boats and he spent time in one of the snake boats, ignoring his security cover. Later on every year, he would donate a silver trophy in the form of a snake boat as a gift for the memories of the time he spent there. Since then it's named as Nehru Trophy Boat Race.
The Nehru Trophy Boat Race is said to be the premier snake boat races in Kerala , In addition It is one of the cultural highlights of the state, so plan your visit accordingly if it is your desire to see and experience this boat race. This is held on the second Saturday of August every year and draws the attention of tourist all around the world.
The location for the race where the contestants line up is Punnamada Lake and People gather in huge numbers to watch nearly 100 ft long boats compete against each other. The contestants live together; eat together, toil together to work themselves into a smooth, co-ordinated team. The race is called a snake boat race because of the shape of the boats- long and snake-like. It is an amazing experience to simply see the boats row past as you stand on the banks of the lake.
Location: Punnamada Backwaters in Alappuzha.
Entry fee: No Entry Fee.
Timings: This is held on the second Saturday of August every year.
20. Mullakal Bhagvathy Temple
The temple is also known as Mullakkal Rajarajeswari Temple, and Mullakkal Bhagwati Temple. The temple is accessible for devotes from all castes and religions. A century-old temple set in the most beautiful part of Alleppey .
The 500-year-old temple is known for Goddess Bhagavathy, who stands tall at a height of 20 feet inside the temple. The one who would like to explore the culture of Alleppey people, please do not miss the temple's Thaipooya Kavadi festival.
One of the top places to visit in Alleppey , Positioned on one of the main streets of Alleppey. Mullakkal Rajarajeswari Temple Being surrounded by well-maintained wall and a beautiful pond inside, the premises has plenty of trees and jasmine plants. The idols of Lord Krishna and the serpent gods were also installed in separate temples within the self same temple precincts.The temple is run by Travancore Devaswom Board.
Location: Mullackal Rd, Mullakkal, Alappuzha, Kerala – 688011.
Entry Fee: No Entry Fee.
Temple Timings : All days. 5.00 AM- 12.00 PM & 5.00 PM- 9.00 PM
How to Reach Mullakkal Bhagavathy Temple : The temple can be approached by boat, by air, by train and by road.
21. Chavara Bhawan
Chavara Bhavan is an amazing place located in the village called Kainakary which is surrounded by the paddy fields and the backwaters of Alleppey from all sides and this is the ancestral home of the blessed Kuriakose Elias Chavara. This is One of the best Alleppey tourist places of all time. It was built in 1805 , Chavara Bhawan intends to serve humanity.
If you are looking for an private space to seek peace of mind, then you can choose Chavara Bhavan. Every year, thousands of followers come over here to offer their prayers. Other attraction is that this place is surrounded by water from all the sides hence, the only access to reach this place is via boat. The main feature of this shrine is the beacon of light which is around 250 years old.
Location: Kuttamangalam, Kainakary, Kerala – 688501.
Entry Fee: No Entry Fee.
Timings: 7 AM to 4.30 PM
How to Reach: Nearest railway station: Alappuzha
22. Kayamkulam Lake
Kayamkulam Lake is spread over an area of 60 sq.km, it is located 41 KM From Alleppey and 47 KM from Kollam. Vembanad & Ashtamudi lakes are connected with this Kayal and Kayamkulam boat race is held here. It is recommended that you visit this location in the evening so that you do not miss the most beautiful sunsets. This place has one of the largest thermal power plants in Kerala which is known as The Rajiv Gandhi Combined Cycle Power Plant run by NTPC.
It is a place full of activities including fishing, races or other touristic activities. In addition to that you can also spot many birds here. You can also make use of Cycling Track or Recreation Room or lunch on the floating restaurant or have a visit to the Adventure zone or Tsunami Museum. The list of activities also includes visiting Boardwalk, View Point, Yard lighting, Houseboat Jetty and a waterway for boats, in short everything you wish to have is available here.
A lot of tourists all around the world visit this shallow water body to enjoy their holidays here. Local eateries are also available on the sides of this lake with plenty of authentic Kerala dishes. Commercially valuable Mullets, Shrimps, Prawns and Crabs are available handful. The amazing View of Chinese fishing nets in the Kayal is amazing favorite spot of nature lovers.
Location: Near Kayamkulam Thermal Power Plant, Alappuzha.
Entry Fee: No Entry Fee
Visiting Time: Sunrise to Sunset.
Suggested duration: Around 2 hours
Best Time to Visit: Any season. Best time: November to March.
23. Vijaya Beach Park
Vijay Beach Park is highly recommended for families as it posses all the facilities that can be found in a picnic spot. It is placed quite close to the Alleppey beach. This park is actually a children's park on Alappuzha Beach. It is said that your trip to Kerala would be incomplete without visiting at least one of this beaches.
A wide variety of cultural programs are also conducted for the benefit of visitors and few entertaining events also conducted which you can take part in. If you're visiting with kids, let them ride the trains, slides, and swings that have been set up for them. There are also rides for adults. Aside from that, you can rent a bike or bicycles and explore the entire beach area on your own if you so desire. Boats of various types, such as pedal boats and round boats, are available for rent; you may select them as desired. It's a great place to unwind before heading into the beautiful backwaters.
Location: Alappuzha Beach.
Timings: 3 PM to 8 PM – The park opens at 3:00 pm and remains open till 8:00 pm.
Entry fee: INR 150 minimum entry card; free entry for children below 12, You may take video and still cameras inside with extra charges of INR 25 and INR 5
How to Reach: Nearest railway station: Alappuzha, about 2 km
24. Andhakaranazhi Beach
Andhakaranazhi Beach is one of the best tourist places in Alappuzha, a well-kept secret of the city which is memorable forever. The beach is tucked away somewhere on the Alleppey to Cochin road which is Located at a distance of 30 kms from Kochi, Andhakaranazhi Beach is an extension of the tiny village of Andhakaranazhi.
Its remote location away from the city makes it an ideal peaceful picnic area for families, and there are no words to adequately describe the breathtaking vistas. The shore is divided into two sections, one with boulders and rocks and the other with silky soft sand. The coast is constantly patrolled by police and guards. You can get in the water for a quick swim, but swimming isn't a popular sport in this area.
Location: Cherthala taluk, Alleppey, Kerala.
Timings: All day – 24 hours
Entry fee: No Entry fee.
25. Thumpoly Beach
Thumpoly beach is famous for its golden sand and backdrop of lush green palm trees. The fishing communities that line the shore contribute to the beauty of the area. Making coir is also a career in this town. Enjoy the best of Alleppey tourism, including spectacular views of the Indian Ocean, blue skies, and golden sand. Enjoy your time at Thumpoly to the fullest.
Thumpoly Beach said to be a hidden gem located at the distance of 6 kms from Alappuzha and 90 kms from Kochi International Airport. This coastal town in Kerala is a natural habitat of many rare birds, natural flor and the presence of different species of birds can attract the tourists from all over the world.
This beach is famous for its beauty and also cleanliness. You can have a visit to the fishing villages that surround this beach and is a popular landing site for local fishermen.
Location: Alappuzha, Kerala.
Timings: 24 Hours in a Day
Entry fee: No Entry Fee.
26. Punnamada Lake
Punnamada Lake, also known as Punnamada Kayal, is a portion of the Vembanad Lake, Kerala's largest lake. This beautiful lake near Alleppey is a great place to refresh your mind and spirit. Also, you can rent a houseboat to truly enjoy the lake's stunning vistas, or you can go for a deluxe cruise if you prefer to travel in style. Moreover the location has become one of Kerala's most popular tourist destinations.
Punnamada Lake surrounds three main islands of Kerala, which includes Pathiramanal, Perumbalam and Pallippuram. The lake is renowned for the famous boat race called Nehru Trophy boat race. It spans to a number of districts. Hence, it is called by different names at different parts of Kerala.
Punnamada Kayal is the name given to the lake when it reaches Kuttanad. The Kochi Lake is a part of the Vembanad Lake, which situated in and surrounding Kochi Mainland. The Port of Kochi is built around two islands in this lake, Willingdon Island and Vallarpadam. In this section of Kerala, the lake is known as Kochi Lake. A large number of tourists visit during the Onam festival month.
Location: Kuttanad, Alappuzha, Kerala.
Timings: 10 am to 6 pm, everyday.
Entry fee: No Entry Fee.
27. Mullakal Street
Located in the center of Alappuzha, Mullakal Street is quite popular and considered to be the main market of the city. Its well known amongst the tourists for stunning appearance. The street attracts many visitors due to the amazing collection of items it offers. You would know when you visit the place. It sells huge variety of things at cheap prices.
The gold and silver offerings at the market are well-known. Incense, utensils, handicrafts, animals and wooden boxes, carpets, and purses are among the market's other well-known commodities. During the wedding season, it is said to be a popular shopping destination. Because the street is in the heart of Alleppey, it is recommended that you pay a visit to this market.
Location: Mullakkal, Alappuzha, Kerala – 688011.
Entry fee: No Entry Fee.
Timings: There is no particular timing but shops are set up around 6 AM and go on until night
28. Punnapra Beach
Punnapra is one of the most popular tourist destinations in Alleppey, and this small village is ideal for a relaxing vacation with your Family. It is an isolated beach with few visitors, thus it would be perfect for Honeymooners. Ayurvedic Beach massages are very popular here, making it a perfect place to pamper one's mind and body. On the other hand it make your vacation memorable.
Make a trip to Alleppey to see beautiful golden sand beach. Don't forget to visit here with family and friends while in Alleppey, Kerala.
Location: Punnapra, Kerala
Entry fee: No entry Fee
Timing: All day- 24 hours in a day.
29. Bay Island Driftwood Museum
The location is well-known among tourists for its spectacular art displays. Ms. Raji Punnoose, a school teacher by profession, founded this amazing museum. She was really enthusiastic about art and sculpture. Her devotion, love, and passion led her to collect twisted tree trunks, roots, stumps, and other driftwood items. Later, she began moulding the strewn bits into a variety of items that resembled the shapes and statures of animals, birds, and insects.
Today, the Bay Island Driftwood Museum possesses numerous driftwood objects and being the only one of this kind in the entire country. Lonely Planet ranks the museum as the most visited tourist attraction in the world, with many national and international records.
Location: Chakranpadi, Vayitharamattom, Kumarakom, Kerala.
Timings: 10.00 am to 5.00 pm, opens at 11.30 am on Sundays and closed on Mondays.
Entry fee: INR 50 per person.
Visiting Hours : 10:00 AM – 05:00 PM (Weekdays; Closed on Mondays), 11:30 AM – 05:00 PM (Sundays)
30. Pallipuram
Built by the Portuguese in 1503 and one of the oldest European forts in India. Pallipuram, located on the island of Kochi, is one of the most popular tourist destinations in Alappuzha. The fort was constructed in a hexagonal configuration and was made of lime, laterite, and wood.
Location: Vypeen island, Kochi, Kerala.
Entry fee: No Entry Fee.
Timings: All day.
31. Revi Karunakaran Museum
The museum is among the primary attractions in Alappuzha. Mr. Revi Karunakaran will be remembered always for his passion and he is the one who played important role in improving the coir industry in Kerala. The primary attraction of this museum is the amazing marble and crystal installations and also possess one Kerala Room which has over 3800 unique pieces that chart the growth and evolution of our culture.
There is wide variety of art installations, paintings and beautifully displayed informations, you just cannot leave without exploring every aspect of the museum.
Location : CCSB Road, Alappuzha, Kerala.
Timings: Every day from 9 am to 5 pm, except on Mondays.
Entry fee: INR 100 per person.
32. Thottappally Beach
Thottappally Beach is a great place to visit if you want to see some of India's most beautiful beaches. It is one of Alleppey's most popular tourist destinations. The sand seems to be black in colour due to the high amount of zirconia. It is located distant from the hustle and bustle of city life, thus allowing tourists to have a truly relaxing experience.
The distinctive colour and texture of the sands, the spectacular sunsets and sunrises, the charming appearance of palm palms, and the clean atmosphere will all draw people to this wonderful resort. Situated between Alappuzha and Thiruvananthapuram, near to the national highway – 47.
Location: Thottappally, Purakkad, Kerala.
Timings: All day.
Entry fee: No entry Fee
33. Chettikulangara Devi Temple
Choose to visit Chettikulangara Devi Temple if you are a Hindu devotee, listening to the chant of mantras and thousands of bells ringing around at the time of pooja is an amazing experience. It is known as one of the biggest temples and most popular temples in Kerala.
Chettikulangara Devi Temple is located at Mavelikkara in Alappuzha which is one of the ancient temples and famous for the annual Bharani festival. Dedicated mainly to Goddess Bhadrakali, goddess worshipped in three different forms – Maha Saraswati, Maha Lakshmi and Maha Kali or Durga. The main offering of the temple is Chanthattam and the festival falls on the month of Kumbham (February-March).
Location : Chettikulangara, Mavelikara, Kerala 690106
Timings: 5 am to 11 pm and 5 pm to 8 pm, every day.
Entry fee: None. Various offerings in the temple cost from INR 12 to INR 1350
How to Reach: Nearest railway station: Mavelikkara, 6 kms away and Nearest airport: Cochin International Airport- 85 kms from Alappuzha
34. Triveni Floating Market
You might have visited many floating markets in other countries Bangkok and Indonesia, it's the first ever floating market in India which is located in Vembanad Lake in Alleppey. It is owned by the state cooperative and is recognized as a red and white chequered boat. It is an initiative of government-run Consumerfed, which was the great initiative in attracting thousands of tourists visiting the backwaters of Kerala.
Floating Triveni is another unique experience for anyone visiting this place. You can buy wheat, sugar, rice, toiletries, stationary etc. In a nutshell, you can get anything you need, from shampoos and health drinks to televisions and refrigerators. It's a type of supermarket where you can get wheat, rice, and sugar for 10-15% less than market costs. Furthermore, this floating shop benefited around 2,00,000 people who live along the lake's shores.
Location: Kuttanadu area of Alappuzha district.
Entry Fee: None
Timings: 6 AM – 7 PM (Usually)
35. Punnamada Resort
Punnamada Resort is the ideal Alleppey retreat for a relaxing vacation with family or friends. This Resort will captivate you with its luxury and comfort, as well as the breathtaking vistas and lovely melodies of the Kerala backwaters at the location, which will undoubtedly lift your spirits.
The most popular resort in Kerala, which provides tourists with a classic South Indian stay, making it one of the greatest locations to visit in Alleppey. Punnamada Resort, best among the resorts in Alleppey reflects the tradition and culture of Kerala.
Location: Vembanad Lake, Punnamad district, Alleppey, Kerala – 688006.
Entry Fee: No entry Fee
Timings: Any Time – 24-hours of the day.
Experiences
Houseboats & Backwaters in Alleppey
Popularly known as the Venice of the east, Alleppey or Allapuzha is famous for its amazing backwaters and Houseboats. The houseboats are completely safe for families, couples and solo travellers etc. The crew are always available for the guests for any help. The houseboats carry safety equipment such as life-jackets, fire-extinguishers, etc. Guests can enjoy complete privacy and security during their stay.
Spa & Massage in Alleppey
Alleppey offers an amazing experience with all its peaceful atmosphere. In addition to visiting the perfect scenic landscape of Alleppey, you can also treat yourself to the relaxing spa and massage facilities available at almost all resorts and hotels in Alleppey. Body massage centres in Alappuzha have individual rooms with relaxing ambiance for performing the massage therapy. You can always check with the centre before booking a session.
Coir Weaving in Alleppey
Alleppey or Alappuzha is the nerve centre of Kerala's famous Coir industry. Here you can find numerous small scale industries weaving coir products. The majority of their employees are women. The coconut fibre must first be extracted from the coconut husks, after which it is processed and woven into mats and other items.
Kayaking in Alleppey
The backwaters of Kerala may satisfy if you're looking for a relaxing kayaking vacation. Visitors often kayak here in the backwaters where one can see Cormorant and Kingfishers. Also, paddling through tiny canals and sifting through tiny bridges will make you feel very close to everyday life here.
Places to visit near Al
leppey
Kochi 54 km
Ernakulam 55 km
Kumarakam 72 km
Varkalala 94 km
Thekkady 96 km
Munnar 104 km
Visit Voyehomes to see the amazing private Holiday homes at the destination you go.