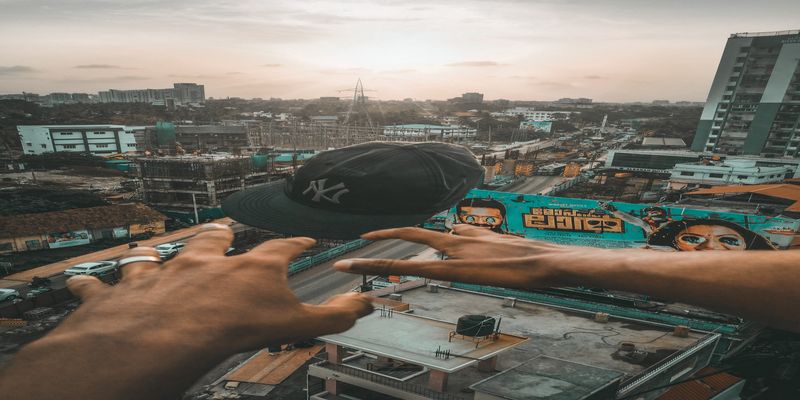 Kochi is a coastal city located in God's own country Kerala in South India. It is a cosmopolitan Kerala city with a thriving commercial port. Moreover, it is Kerala's financial capital and has the state's largest urban mass, with a population of over 2 million people. Therefore, it offers a booming market for businesses and startups. On the other hand, Kochi is a place with deep roots in history consisting of old monuments, heritage buildings and beautiful art making it a popular tourist destination in India.
Kochi is therefore visited by millions of tourists every year both from within the country and internationally. As a result, the city tends to be crowded especially in tourist areas and beaches. But there are some hidden gems in Kochi that is unknown which are less crowded and offer beautiful views and experiences to those who visit. Here are our top picks for offbeat places to explore in Kochi in 2023.
1. Kumabalangi Village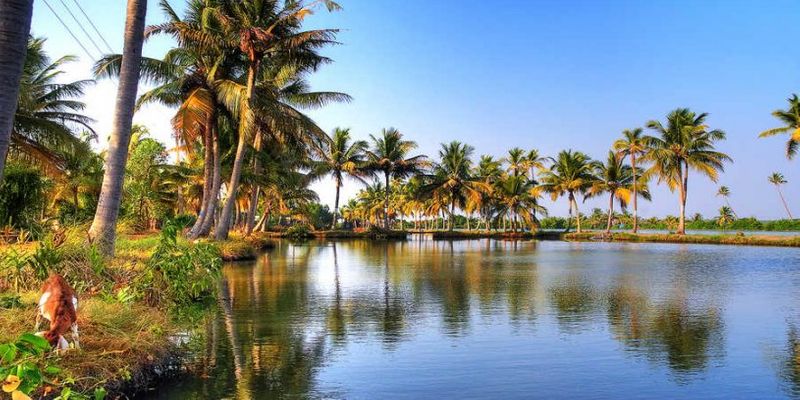 Kumbalangi is a quiet island village located on the outskirts of Kochi. Featured in the famous Mollywood film 'Kumabalangi Nights', this offbeat Island is surrounded by tall mangrove trees giving the visitors a tropical Island vibe while strolling through Kumbalangi.
Here are some of the things to do in Kumabalangi:
Village walking and sightseeing
Boating in the village backwaters
Fishing
Crafting potteries, Basket weaving, Rope making and so much more
2. Vallarpadam Island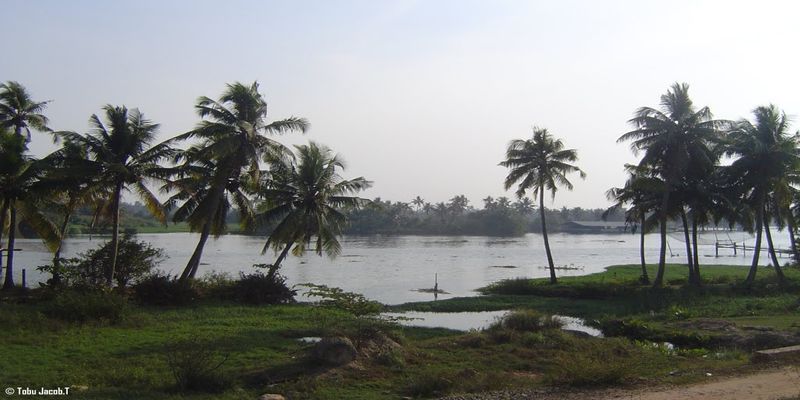 Vallarpadam is one of the Islands in Kochi. It is situated in the middle of Vembanad lake and offers a picturesque view of the surrounding region. You will be able to watch beautiful paddy fields swaying in the wind while the fishermen head out to get the catch for the day. Furthermore, fishing and rice cultivation constitute the majority of the income of the locals.
Vallarpadam Island is around 6 kms from Fort Kochi and can be visited by ferry in which also has vehicle loading service. The Vallarpadam Church or the Basilica of Our Lady of Ransom is a beautiful architecture which is a must see for anyone planning to visit this island.
3. Kashi Art Cafe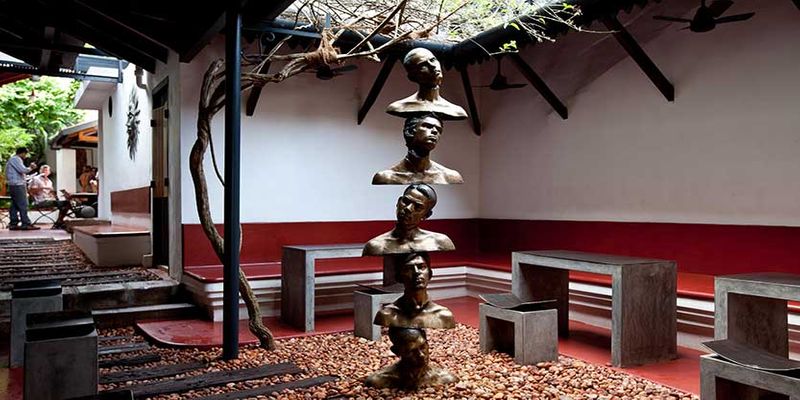 Just 200 metres from Fort Kochi, Kashi Art Cafe is a must visit if you are visiting Kochi. This cafe has an adjoining art gallery which is must see to please your inner aesthete. Settle into the garden cafe and enjoy an amazing meal at Kashi art cafe while you immerse yourself in a good book and awe at the beautiful wall paintings.
4. Vypin Island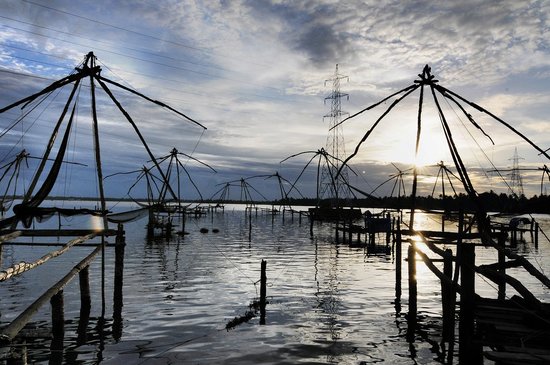 Vypin Island is one of the islands that make up the cities of Kochi and Ernakulam. It is located just north of Fort Kochi and can be reached by ferry or by road. It is a long, narrow island, about 27 kilometres long and less than two kilometres wide at its widest point. Moreover, the Goshree Bridge, which is about 3 kilometres long and touches two other islands, connects it to mainland Kochi.
Despite being one of the world's most densely populated islands, the drive along Vypin Island is very scenic. The Arabian Sea is on the west, and the scenic backwaters are on the east. Furthermore, palm trees line both sides of the walkway. Vypin Island also has a lighthouse and offers a surrounding view of the nearby beaches.
5. River Whisper Lake View Resort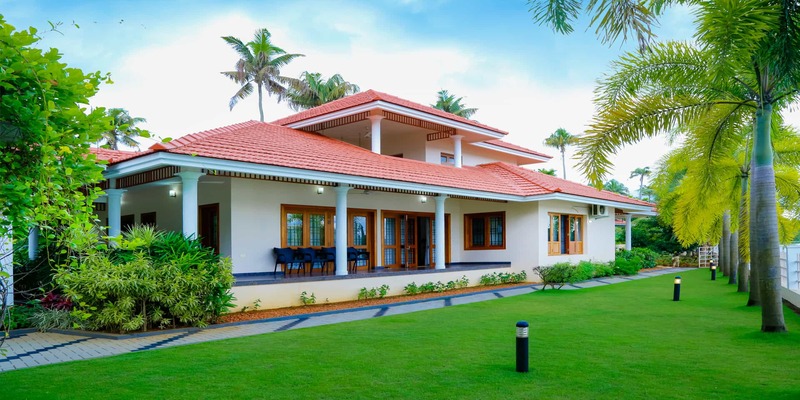 VOYE HOMES River Whisper is a Lake view resort located in the picturesque village of Kongorpilly, just 12 kms from the city of Kochi, this four-bedroom Kochi homestay is a Diamond Category Homestay approved by the Department of Tourism, Kerala. Moreover, this Lakeside Villa in Kochi is apt for families and larger groups overlooking the serene Periyar River making it a picturesque homestay. Additionally, River Whisper is a homestay that guarantees privacy in a beautiful isolated location making it one of the best offbeat places to stay in Kochi.
Promising guests the simple joys of life, the homestay comes with a full-length river frontage, sprawling lawns with outdoor seating, and the natural vibe of a village ecosystem teeming with friendly people and diverse birdlife. This lakeside villa in Kochi also offer kayaking, cycling activities and local seafood cuisines to dine for.
6. Cycle Tours in Kochi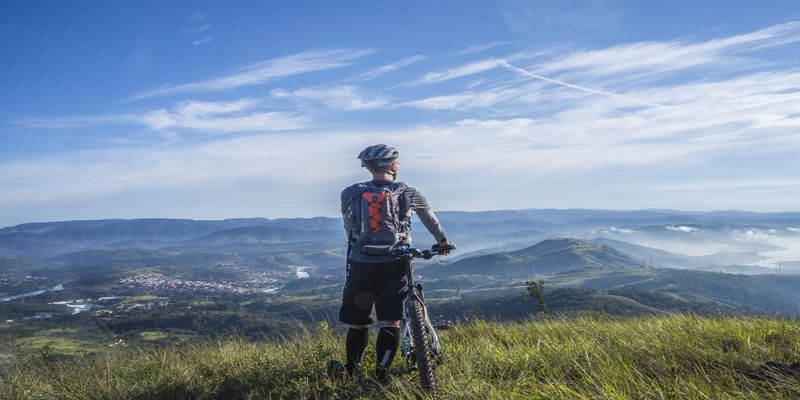 Cycle touring has been steadily gaining popularity in Kerala. Enthusiasts gear up, take out their cycles and have travelled hundreds of kilometers for sightseeing or just for the sheer thrill of cycling. There are also casual cyclists and cycling clubs where people just want to ride to explore offbeat places in Kochi away from the hustles and bustles of city life. As a result, tourist destinations like Kochi all offer cycling tour packages of the city and state at reasonable rates. If you are an adventure lover, this is a great activity to push your body and mind all while experiencing the serene beauty of Kochi.
Read on: Munroe Island – The Secret Island In Kerala That You Must Visit
Find The Best Tea Plantations & Tea Bungalows In Munnar
Check out VOYE HOMES to explore private stays for your next vacation.