VOYE HOMES Moonlight Forest Bungalow is the perfect destination for a memorable holiday. With breathtaking views of the mountains, valleys, and lakes, this resort offers an ideal base to explore the unspoiled wilderness of the region. The bungalow was built during the colonial era and features a private waterfall and an on-site viewpoint. Kanthalloor is a serene and picturesque hill station in the Idukki district of Kerala. It offers a perfect getaway to unwind in the lap of luxury amidst the unspoiled nature. One of the main attractions of Kanthalloor is its proximity to Munnar, one of the most popular hill stations in South India. Visitors can easily access Munnar from Kanthalloor and explore the various tourist attractions it has to offer while also enjoying the tranquil beauty of Kanthalloor.  
Voye Homes' Moonlight Forest Bungalow in Kanthalloor, Munnar, is a private plantation bungalow with three bedrooms, an attractive tree hut, and amazing waterfalls. The property borders the Chinnar Wildlife Sanctuary, making this Kanthalloor jungle resort a destination in itself. The resort offers enchanting nature walks that showcase stunning vistas, and treks of varying durations to suit your preference, including our private waterfalls, 4×4 jeep off-road adventures, tree house experiences, and the occasional wildlife rendezvous. The bungalow is designed with a touch of colonial-era architecture and boasts an amazing view of the mountain valleys of Chinnar. The key attribute of our resort at Kanthalloor is the privacy that adds more excitement and joy to your vacations.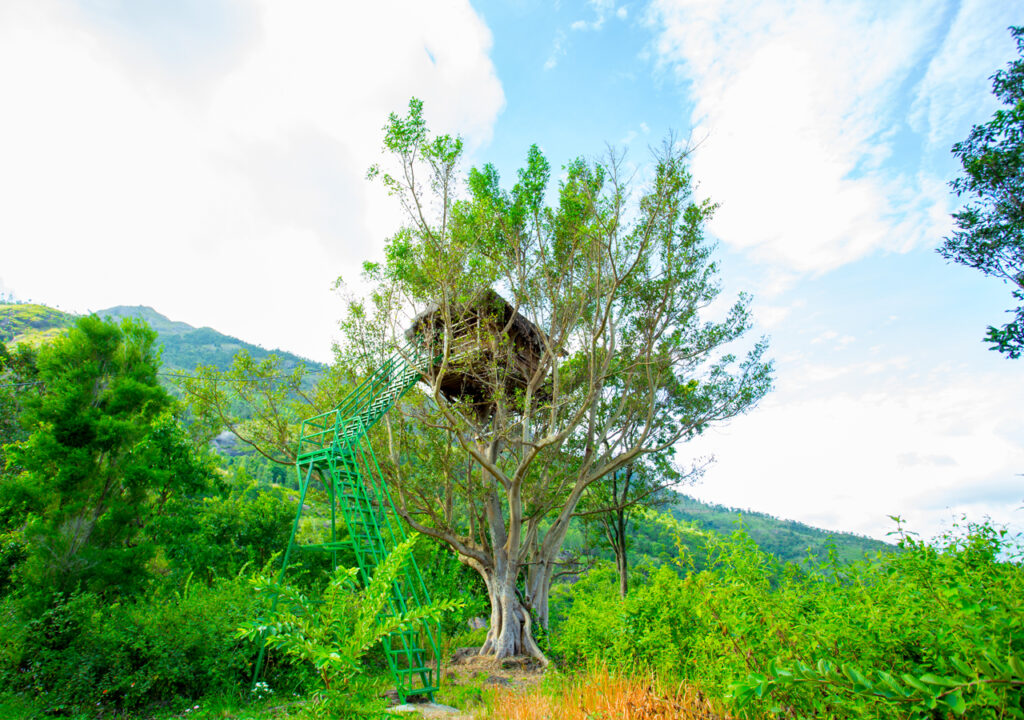 Voye Homes Moonlight Forest Bungalow is one of the best resorts in Kanthaloor, Munnar, with a wonderful treehouse. One of the main attractions of staying in a treehouse is the opportunity to enjoy breathtaking views of the forest or landscape. Treehouses provide the perfect spot for relaxation and allow you to be closer to nature. Getting to your treehouse can be an adventure, such as climbing a ladder, adding an element of excitement to your stay, and making it feel like a true adventure. If you're lucky, you may spot wild animals up close.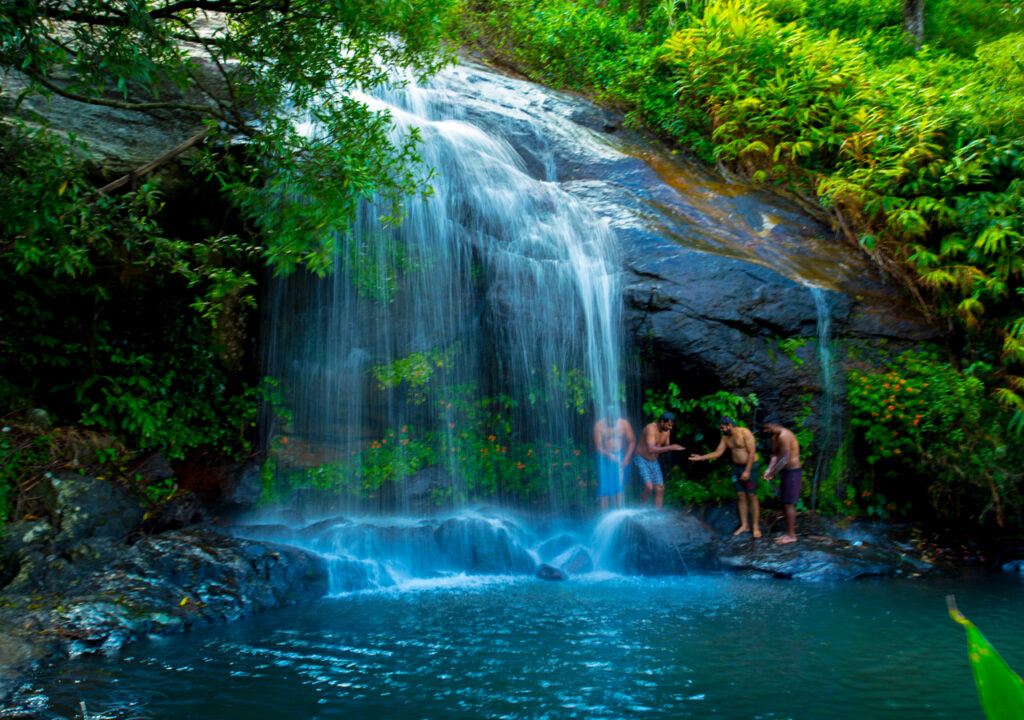 One of the main attractions of the Moonlight Forest Bungalow in Kanthalloor, Munnar is its private waterfalls. Private waterfalls and streams are precious gems within the forest, and visitors can enjoy them from this charming bungalow. A forest bungalow with a private waterfall is an idyllic escape into nature's beauty and serenity. A short hike from the bungalow leads you to a hidden gem – your private waterfall. Surrounded by moss-covered rocks and wildflowers, the waterfall is a tranquil oasis where you can swim, relax on the rocky outcrops, or simply savor the soothing sound of rushing water.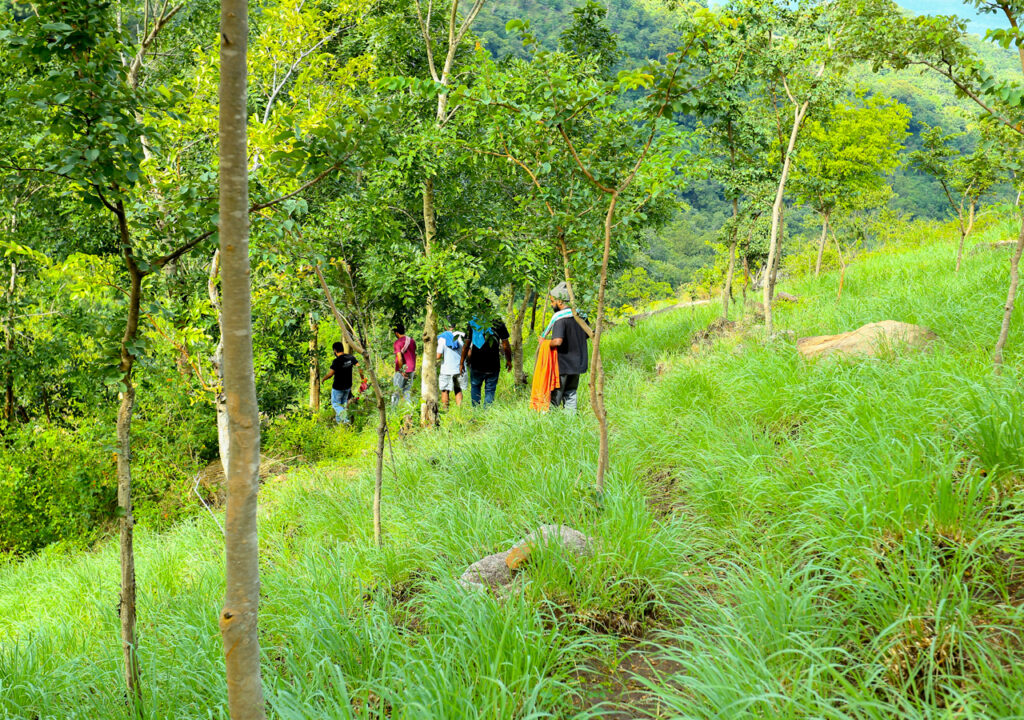 As soon as you step out of your door, you will find yourself just a few steps away from a serene private waterfall. The crystal-clear waters flow softly amidst a peaceful forest setting. If you want to experience local culture and heritage, you can visit the charming village of Kanthalloor which is only 6 kilometers away. The village boasts of lush fruit orchards and breathtaking landscapes that are worth exploring.
Within a short drive of approximately 9.5 kilometers, you can reach Muniyara, where you will have the opportunity to explore the mysteries of ancient dolmens and stone structures. In the vicinity, you can also visit Anakottapara Park, which is a tranquil location perfect for relaxation and picnics. If you're up for a bit more adventure, take a drive of around 12 kilometers to Anamudi-Shola National Park. This park is a haven for biodiversity enthusiasts and nature lovers, offering a unique and breathtaking experience. If you have a passion for history, Marayur, which is only 14 kilometers away, is a must-visit destination with its sandalwood forests and ancient rock paintings. The Thoovanam Waterfalls, a refreshing natural haven, are located 15 kilometers away. If you are a wildlife enthusiast, you can take a 20-kilometer drive to the Chinnar Wildlife Sanctuary to witness the region's diverse fauna. 
With such a rich tapestry of natural and cultural attractions nearby, your stay promises a wealth of unforgettable experiences and adventures.