Cochin is a city that is widely referred to as the 'Queen of the Arabian Sea'. It is blessed with a rich blend of culture, history, and natural beauty. The city is located in the heart of Kerala, making it a destination that has something unique to offer to every traveler. Voye Homes is dedicated to ensuring that your journey to Cochin is unforgettable with our exclusive private stays. We invite you to experience Kochi's cultural richness and scenic beauty through our diverse range of private stays in stays. Whether you prefer a serene experience by the backwaters, a journey through history with heritage stays, relaxation by a private pool, intimate private stays, or the ultimate luxury experience, VOYE HOMES has got you covered. We ensure that your visit reflects your unique travel style, promising an exceptional journey through Kochi. Each of our Voye Homes properties in Cochin has a unique story waiting to be explored by you. 
Kochi Backwater Stays: A Serene Retreat
Kochi's backwater stays offer an unparalleled retreat into the tranquil heart of Kerala. Set against the backdrop of the lush, winding backwaters, this accommodation provides a serene escape from the bustling world. Imagine waking up to the gentle lapping of water against your private abode, surrounded by verdant coconut groves and the melodious chirping of birds. Kochi Backwater Resort by VOYE HOMES is the ultimate riverside haven for the perfect getaway. Nestled in the picturesque location of Varappuzha, near Kadamakkudy Island, this premium property offers an idyllic escape like no other. It's the ideal destination for those seeking tranquility and adventure in equal measure. These stays offer an intimate encounter with nature, with a charming riverside villa that lets you immerse yourself in the soothing ambiance of Kerala's famed waterways. Whether it's a family vacation, a team outing, or an intimate gathering, Kochi Backwater Resort by VOYE HOMES is your go-to destination. Come, and experience the beauty and serenity of this property – where evenings with dear ones become magical, and small parties and get-togethers become extraordinary. 
Sun, Sea, and Sand: The Allure of Beachside Villas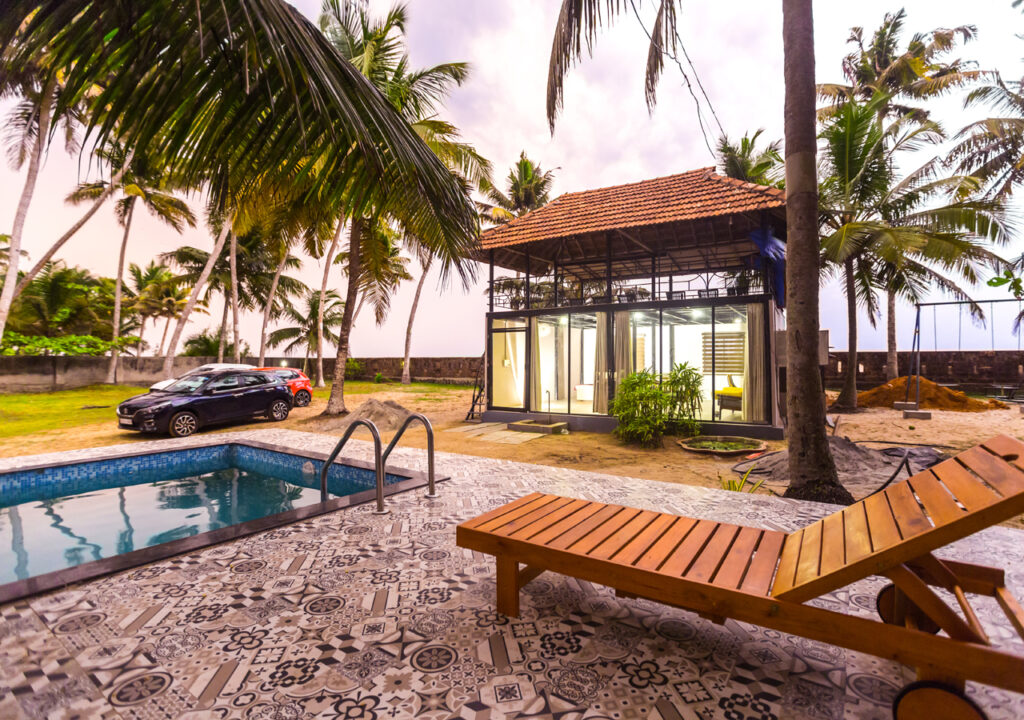 Experience the ultimate coastal escape with a private beach stay in Kochi with Voye Homes. Imagine stepping out of your stay and feeling the soft, warm sand beneath your feet as you gaze upon the endless expanse of the Arabian Sea. Voye Homes' Karthiyayini by the Sea is the epitome of coastal luxury. Nestled along the sandy shores of Kochi, this beachside villa near Andhakaranazhi Beach offers an unforgettable vacation experience. 
Imagine spending your days walking leisurely along the beachfront, basking in the sun's golden glow, or taking a refreshing dip in your very own private swimming pool when you need to cool off. With a backdrop of azure waters and the soothing sound of the waves, private beach stays in Kochi provide a paradise for those seeking relaxation and the therapeutic embrace of the sea. It's the perfect setting for romantic getaways, family vacations, or simply unwinding in style by the sea. Your private beach stay in Kochi promises an unparalleled coastal experience that will leave you with cherished memories of the sun, sand, and sea. 
Swim in Style: Life at Our Private Pool Villas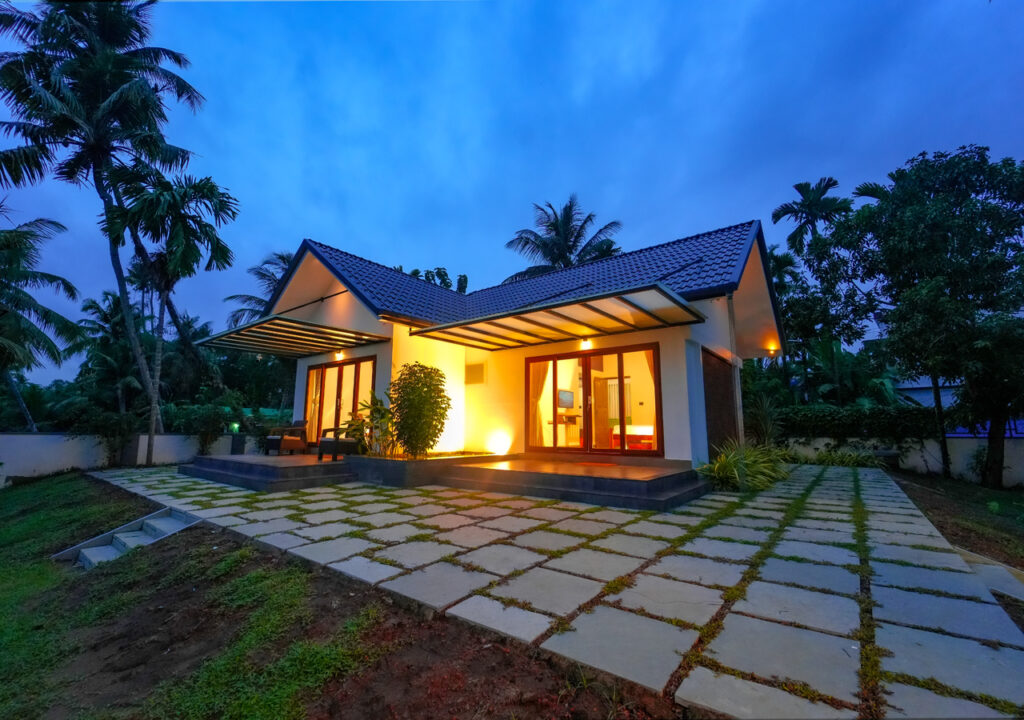 La Riva Pool Villa by VOYE HOMES is a luxurious Lakeside private villa. It offers a perfect blend of luxury and tranquility. As you enter the villa, you will be welcomed by a shimmering pool that seamlessly merges with the elegant interiors, providing a unique experience of seclusion and indulgence. The villa is ideal for a romantic escape, quality time with family, or a getaway with friends. It offers a full-length river frontage, a private swimming pool, sprawling lawns with outdoor seating, and a natural setting that comprises a village ecosystem teeming with friendly people and diverse birdlife. The private pool villas provide an ideal backdrop for unparalleled privacy and relaxation. Your villa becomes your retreat where you can enjoy moments of quiet contemplation in the private garden or indulge in exquisite dining experiences. Life at this villa is a harmonious fusion of serenity and style, where you can escape the world while still being within reach of the destination's exciting attractions. Luxury, privacy, and style converge, promising an unparalleled experience, and memories that will last a lifetime. 
Privacy and Peace: The Magic of Lakeside Living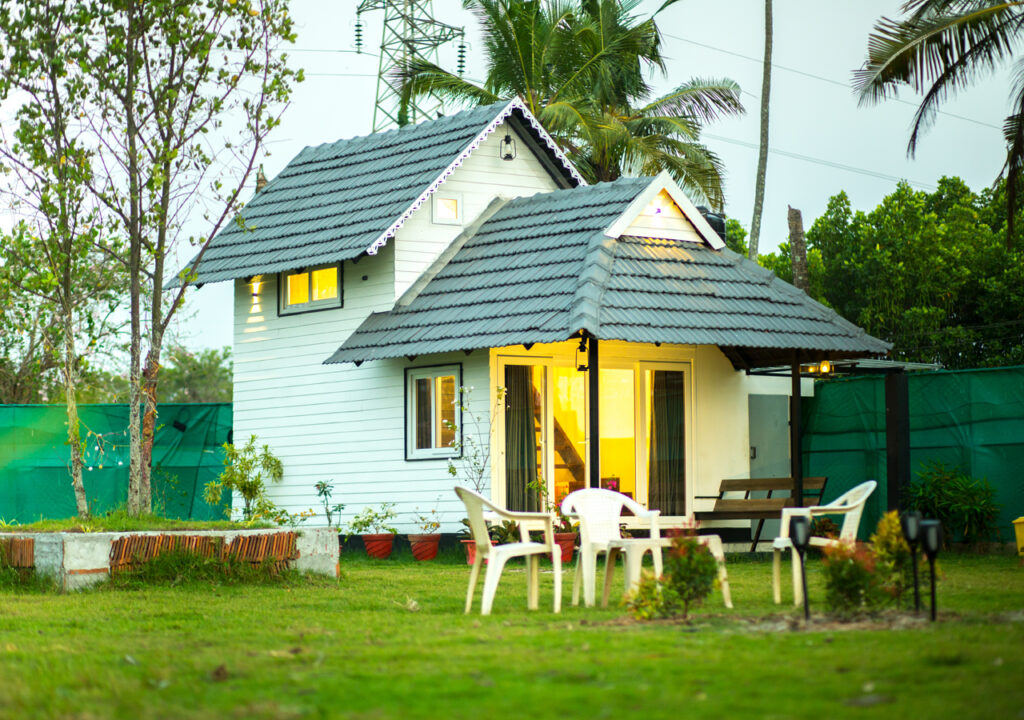 JC Den Villa by VOYE HOMES is situated in Kumbalangi, Kochi. One of the best private backwater villas in Kochi. Our lakeside accommodation provides the perfect blend of privacy and serenity for those seeking a peaceful retreat. As you enter your private villa, the pristine waters of the lake create a tranquil backdrop, allowing you to forget the hustle and bustle of the outside world. Experience the enchanting phenomenon of bioluminescence or sea sparkle (locally known as kavaru) from the comfort of your own lakeside villa. This resort is the perfect place to spend a serene and relaxing holiday with your loved ones on the beautiful island. The highlight of this holiday home in Kumbalangi is the outdoor hut located on the edge of the river. Your lakeside villa is not just a place to stay; it's a sanctuary where you can enjoy moments of quiet contemplation, bask in the warmth of the sun, or simply appreciate the beauty of nature. Lakeside Living offers an unforgettable experience that will remain etched in your memory.