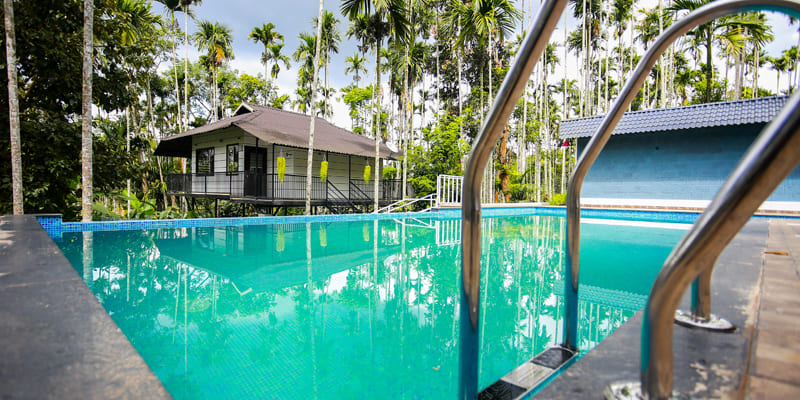 Wayanad is located in the southern part of Kerala state, India. It is known for its lush green forests, waterfalls, wildlife and of course beautiful Wayanad resorts. The Wayanad district has a wildlife sanctuary which has been declared as a tiger reserve by the government of India. Wayanad is visited by crowds of people every year for its natural beauty and cool climate. Whether it be for a weekend or a holiday, Wayanad offers breathtaking views for tourists to immerse themselves.
The best time to visit Wayanad is during the months of October to May when the weather starts to get chilly and cool. The temperature ranges from 17-25 degrees Celsius which makes it a cozy climate to curl up in the bed of a resort overlooking the luscious greenery or the mist covered hills of Wayanad.
Resorts in Wayanad are known for their hospitality and amazing customer service. With the friendly natives and amazing food, Wayanad should be a destination for everyone's bucket list!. Here is a list of some of the best resorts with swimming pools in Wayanad with prices ranging from luxurious to wallet friendly.
Note: Be sure to carry your ID along with you and comply with all the rules of the property.
Resorts With Swimming Pool in Wayanad
Note: All prices given below are subject to change.
1. Mountain Shadows, Vythiri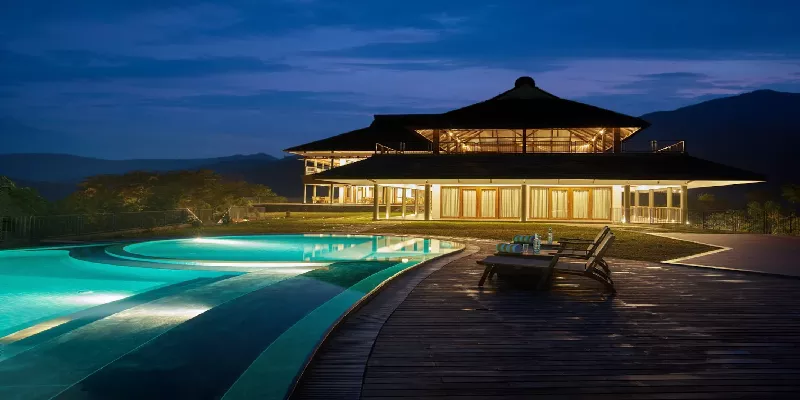 Mountain Shadows Villa is the most luxurious resort on our list. This beautiful villa has all basic amenities with additional facilities like a board room, conference hall, library, indoor games hall and much more. Situated in Padinjarathara around 35 km from Vythiri, the mountain shadows villa offers a jacuzzi, private pools and a huge swimming pool with great views.
Pricing – Staring from INR 16650 + TAX
Book here – Mountain Shadows Booking
2. LakeRose Resort, Vazhavatta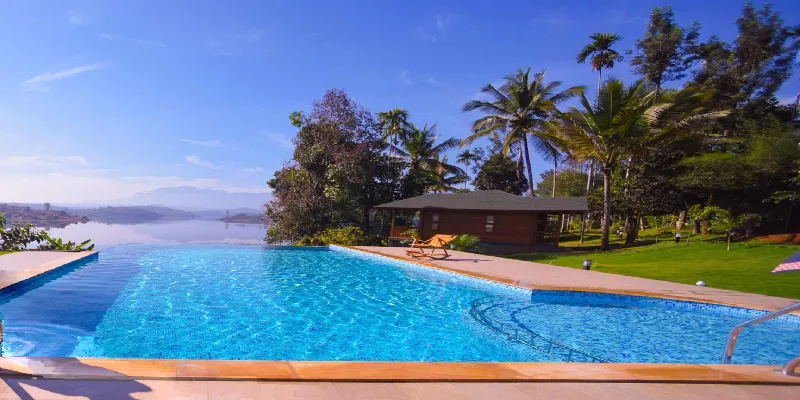 LakeRose is yet another resort in Wayanad with a jacuzzi. This resort is located in Vazhavatta on the serene banks of Karapuzha reservoir. Other than basic amenities like WiFi and complimentary breakfast LakeRose offers a spice garden restaurant, glass walled infinity pool, children's play area, ayurvedic spa and more.
Pricing – Starts from INR 6867 + TAX
Book here – LakeRose Booking
3. Chembra Peak View Villas, Meppadi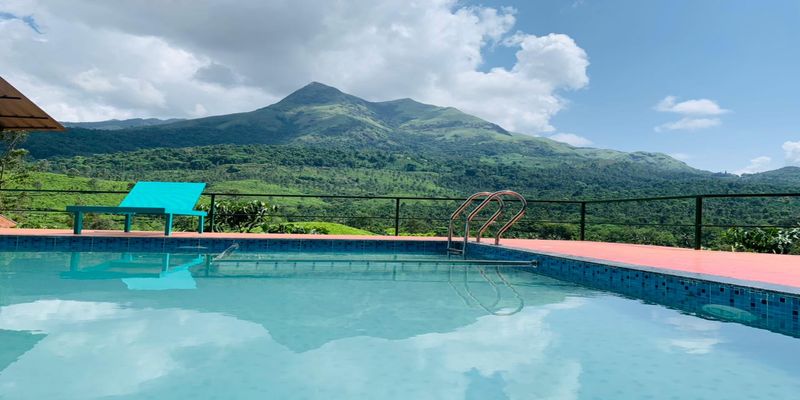 Chembra Peak View Villas by VOYE HOMES, nestled on the top of high altitude foggy mountains with the view of Chembra Peak is a group of friendly private villas. This Pool Villa in Wayanad offers 3 distinct cottages, each with 2 bedrooms, a dining area, and a single cottage with 1 bedroom, as well as all of the modern facilities along with the natural beauty of Wayanad. The major attraction of this Meppadi Resort is an Infinity swimming pool with a view of Chembra Peak. It is also one of the best spots in Wayanad for trekkers because they can enjoy the best trekking experience- Chembra peak trek, which is just 4.8 km from this Chembra Peak Resort.
Pricing – Starts from INR 5499
Book here – Chembra Peak View Resort Booking
4. Vyna Hillock Resort, Vythiri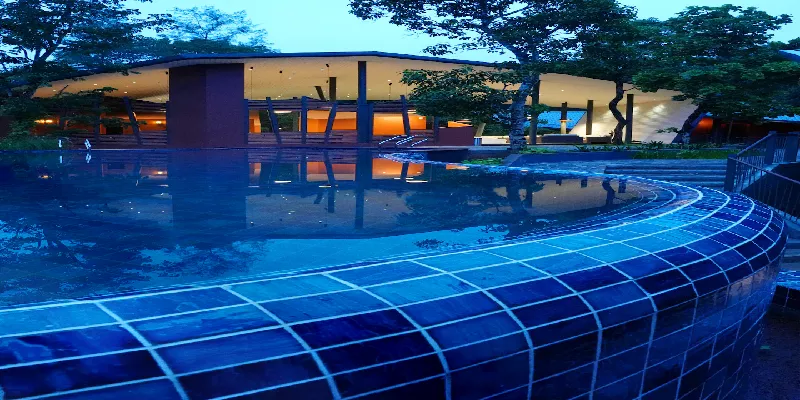 Vyna Hillock Resort is a beautiful piece of architecture that must be experienced by everyone looking to stay in Wayanad. With around 20 independent villas. Vyna Hillock offers beautiful pool villas with facilities like a multicuisine restaurant, ayurvedic spa, a children's play area, a fitness center and a pool with a beautiful view of the lush greenery of Wayanad. It is just a 3 km ride from Vythiri.
Pricing – Starts from INR 4675 + TAX
Book here – Vyna Resort Booking
5. Misty Peak Resort, Manjoora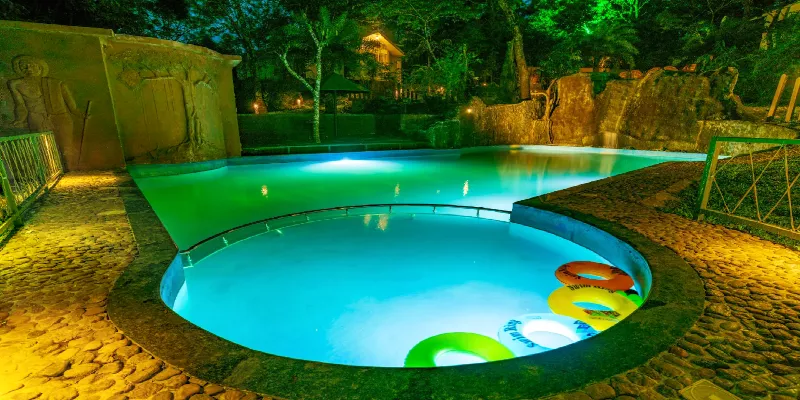 Misty Peak Resort is located near Karlad Lake and offers 41 cottages in the middle of a forest area surrounded by greenery and wildlife. Around 3.5 km from Manjoora town Misty peak is easily reachable by bus or vehicle with parking. Facilities such as a multicuisine restaurant, convention center, golf course and swimming pool with special kids area are also available at this resort.
Price – Starts from INR 3554 + TAX
Book here – Misty Peak Wayanad
6. Wildside Retreat, Sulthan Bathery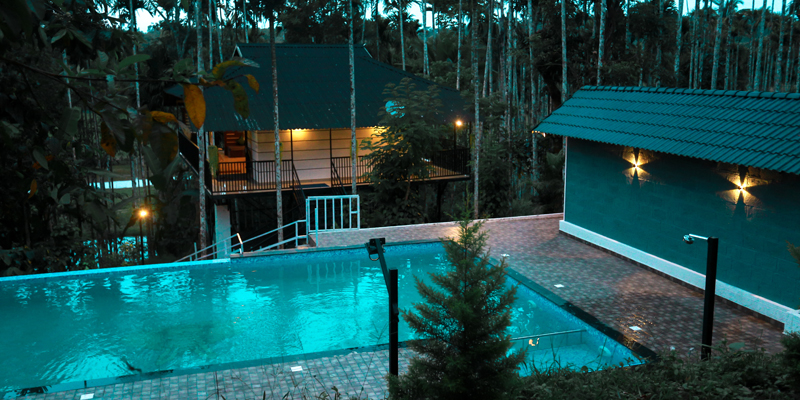 VOYE HOMES Wildside Jungle Retreat Wayanad's major attraction is an infinity swimming pool. There are also natural plantation areas to see, water basins where you may go fishing, a watch tower, a kids pool and an in house restaurant. A fantastic location around 8 km from Sulthan Bathery that provides you with ultimate natural retreats to treasure and take home.
Wildside Jungle Retreat has 3 individual premium cottages and a Heritage villa. Wildside stands out for providing the best in terms of accommodation, recreational activities, food, and other aspects.
Price – Starts from INR 3199
Book here – Wildside Retreat Bookings
7. LE EDEN, Sulthan Bathery
LE EDEN is a cottage located around 6 km away from Sulthan Bathery. It offers 360 degree views of the surrounding forest and paddy fields. It has an impressive swimming pool situated amidst the cottages. LE EDEN offers its guests a cottage stay experience with a campfire, bbq, fishing and kids area.
Price – Starts from INR 2120 + TAX
Book here – LE EDEN Booking
8. The Hill District Club, Kolagappara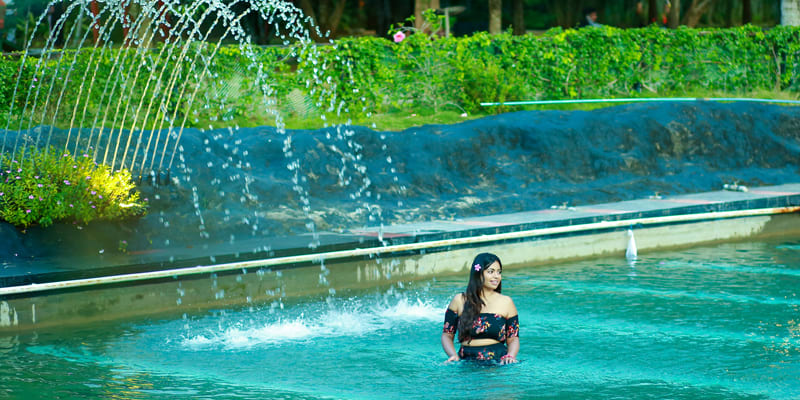 THDC is a 4-star rated stay in Wayanad with a vast 3.5 acres of wide green lands which offers its guests not only a comfortable stay but a huge area with activities such as zip lining, kids play area, dedicated tent & caravan camping areas and features a huge swimming pool all at an affordable rate.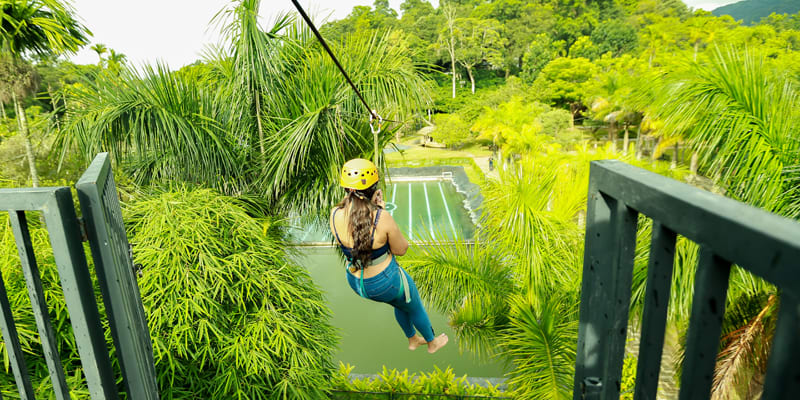 Situated just 1.5 km from Kolagappara town, the hill district club is a must visit for families, corporate retreats or anyone looking for an outing at Wayanad.
Price – Starts from INR 4450
Book here – THDC Booking
Which resort would you like to visit? Let us know below!
Visit VOYE HOMES to explore more resorts in Wayanad
Read more: The Best Romantic Getaways For Couples In Wayanad