Have a long and relaxing stay at safe and sanitized resorts In Vagamon – Novella Vagamon . VOYE HOMES Novella Vagamon is an eco- friendly hill top tea estate resort in Vagamon.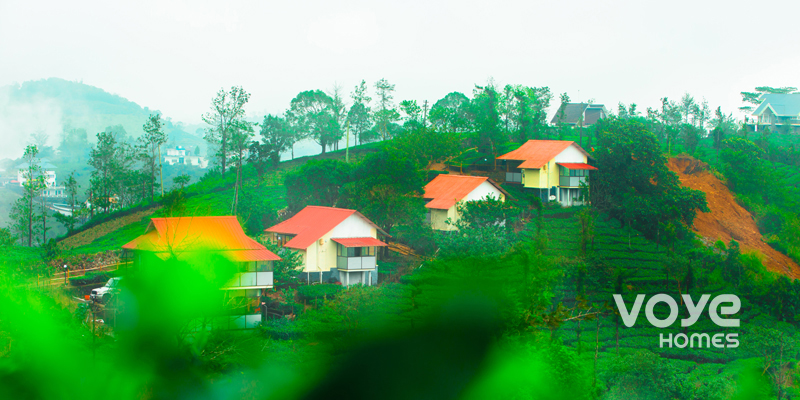 Resorts in Vagamon – Voyehomes Novella Vagamon
VOYE HOMES Novella Vagamon – Private Tea Villas provide full peace to those seeking an escape into nature. It comprises four single bed room tea estate cottages, each with an incredible balcony view, and thus provides a unique blend of comfort, relaxation, and adventure. Furthermore, this Vagamon resort, located at the top of a hill with tea plantations and overlooking the lovely Chottupara Hills, offers a 360-degree outlook that is truly picture perfect. Also, the singing of birds and the melody of the breeze that reverberates throughout the year provides an inviting reprieve from your busy and demanding existence.
The Private tea villas in VOYE HOMES Novella Vagamon offer you a unique blend of comfort, relaxation and adventure with amazing balcony views of the tea plantations, overlooking the majestic Chottupara Hills in Vagamon.
The main attraction of Vagamon is its abundance of undulating tea estates and grass lands, and one can enjoy the beauty of tea plucking. Staying in the midst of luscious tea plantations while the mist and low clouds pass by, falling down to the valley's bowl, will be a once-in-a-lifetime experience.
Onsite trekking to the Chottupara hills will be an everlasting experience for the one who visit this amazing destination. Hence, this has become the perfect getaway for team outings and the right choice for adventure lovers.
The view of Uluppuni Hills and Kottamala, set on the higher slopes of the 'Western Ghats' mountains, follows the whims of your thoughts here. Vagamon's tea plantations are spectacular. The forested mountain slopes rolling to the horizon, in addition to the Chottupara hills and vision of lush, are remarkable brushstrokes of nature, and they're all yours alone.
Experiences at Novella Vagamon
Novella Vagamon is easily accessible, as it is only 06 kilometres from the town of Vagamon towards the Pullikkanam route. This is the most beautiful hill station in the Idukki district. The vast expanse of undulating tea estates and grasslands is the real draw. Also, tea plucking is the main activity you can engage in here.
Vagamon is also known for its numerous camping and hiking paths, as well as breathtaking waterfalls, caves, hills, flora and wildlife, and an abundance of wonderful landscapes. For adventure seekers, onsite trekking in Novella Vagamon is the major attraction. Furthermore, the onsite trekking to Chottupara Hills will take less than 20 minutes. In addition, the area is known for its spice crops.
Private hiking spots
Trekking Trails
Hiking Trials
Tea Plucking
4×4 Jeep Drive's
Chottupara Trekking
360-Degree View of Western Ghat Mountains
Midst of Lush Tea Estate
Perfect getaway for a team outing
It's a lovely spot to re-energize. So take in the scenery in all its glory, accompanied by delicious food and warm hospitality. Do you want to give your eyes a rest from all the concrete buildings you've been seeing? Consider a relaxing holiday house that merges with nature.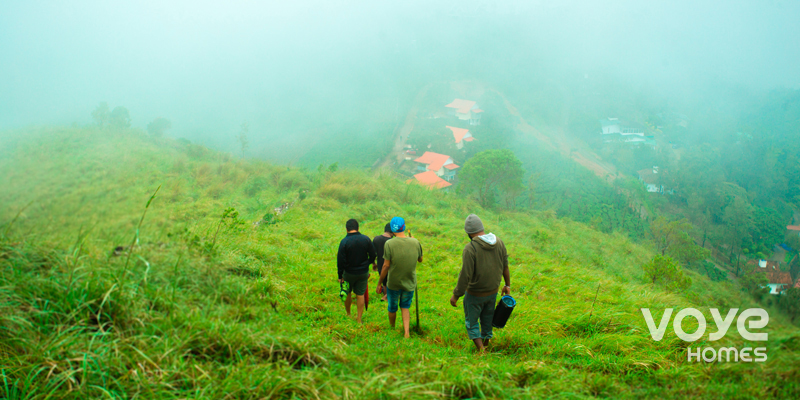 Are you unsure where to stay during this pandemic? Click to know more about Private Holiday homes and Luxury villas in Kerala by VOYE HOMES. Safety and privacy guaranteed. Connect Voyehomes on 9539690660 for more info.
Read next: Never Miss Out These 18 Fascinating Vagamon Tourist Places