Vagamon is a mystical hill station located 1,100 meters above sea level. The hills, which were once popular with British tourists, are now home to tea and coffee plantations. The hills are surrounded by the greenery of tea gardens, fresh cool air, murmuring Pine forest, beautiful waterfalls, and attractive meadows welcoming you to Vagamon. Explore the best Places To Visit In Vagamon for one day trip.
Best time to visit Vagamon
Summer
Vagamon is visited by tourists throughout the year. The summer months are from March to May. But the highest recorded temperature was 25o C. Therefore the weather does not get too hot and remains pleasant.
Monsoon
Vagamon experiences monsoon from June to August. The light to moderate rain shower makes the grasslands rich with greenery and flowers bloom for the upcoming winter season
Winter
The best time to visit Vagamon would be in the winter months from December to February when the weather can go below zero at times, so be sure to pack your winter gear for the trip.
How to visit Vagamon
By Air
The nearest airport to Vagamon is Cochin International Airport, which is 96 km away. You can hail a cab from the airport to take you to your destination.
By Train
The closest train station to Vagamon is at Kottayam, which is at a distance of 64 km from Munnar.
By Road
The best way to travel to Vagamon is by taking a road trip as it is a beautiful drive through the luscious meadows and pine trees.
Here are our Top 10 places you must visit in Vagamon on your next trip.
Vagamon Tourist Places
1. Vagamon Lake and Boating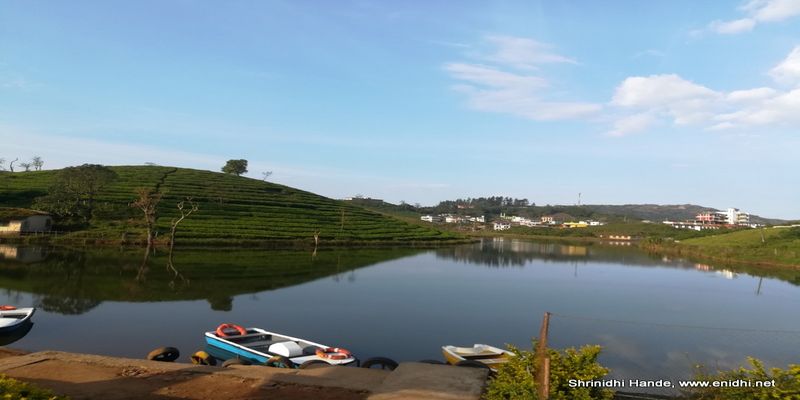 The Vagamon Lake is a spectacular tourist attraction tucked away in the Vagamon Valley, nestled between three green hills. The lake, with its picturesque surroundings and lush greenery, is a popular tourist destination that draws a large number of visitors. Furthermore, the hills surrounding it are covered in a glossy green grass carpet that is always blooming with vibrant flowers. The area around the lake is especially popular among photographers and those seeking solitude, as it provides peace and calms like no other. Furthermore, the lake has been used for shooting purposes.
Activities: You can enjoy boating in the lake, which is popular for picnics and leisure outings for around Rs 200 per pedal boat.
How to reach: Vagamon Lake is 1km from Vagamon bus stop.
Entry fee: Rs 10 for adults and Rs 5 for children.
2. Vagamon Meadows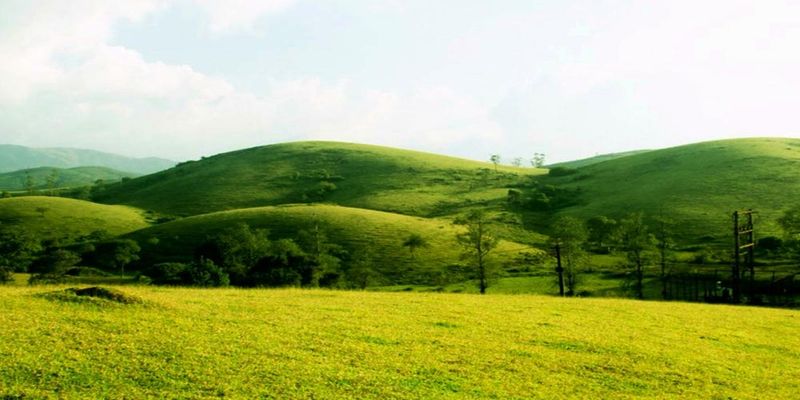 The vast expanse of meadows in Vagamon is one of its major attractions. Blooming flowers, fascinating activities, and distinct lush vegetation abound in these meadows. The fresh clean air is a plus, as it allows you to get away from the city's regular rush and bustle. Tourists can stroll across the meadows for a short time, go boating on the Vagamon meadows lake, and relax in the lovely tea plantations that surround the meadows. The Vagamon meadows provide a plethora of exciting activities, intriguing locations to visit, and nearby areas that should be explored.
Activities: Short trek, Photography, Sightseeing
How to reach: Vagamon meadows is 2 km from the city centre.
Entry fee: Rs 10 for adults and Rs 5 for children
3. Murugan hills/Murugan Mala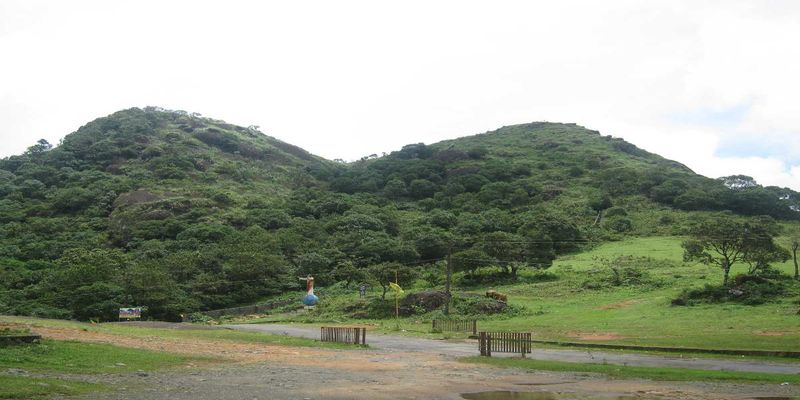 Murugan Mala is a spiritual mountain in Kerala's Vagamon district. It is one of the most popular destinations of pilgrimage in the region, as well as one of the top locations to visit in Vagamon, and is located on the Kurisumala-Thangalpara Road.
Murugan Mala, located on the eastern side of Kurisumala Hill near Vagamon, is a tiny hill known for the magnificent rock-cut temple dedicated to Lord Murugan, Lord Shiva's son. Every year, people from all over the country go to this temple, which was built out of a single rock.
Activities: The location is perfect not just for Lord Murugan believers, but also for nature enthusiasts and photographers. It has a beautiful landscape that makes it an excellent destination to visit for sightseeing and photography
How to reach: Murugan mala is 4km away from Vagamon bus stop
Entry fee: Free
4. Ulipooni Wildlife Sanctuary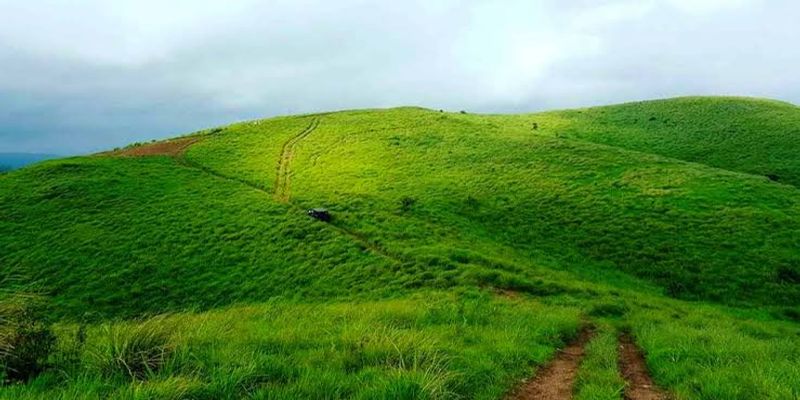 Ulipooni is well-known for being a beautiful picnic location. Couples who go for a boat trip along the lake are also popular visitors. It's the ideal spot for a relaxing day, where you can lose yourself in the splendour of Vagamon's green hills and forget about the rest of the world.
Activities: Trekking, Nature walk, Sightseeing
How to reach: Murugan mala is 4 km away from Vagamon bus stop
Entry fee: Free
5. Pine Forest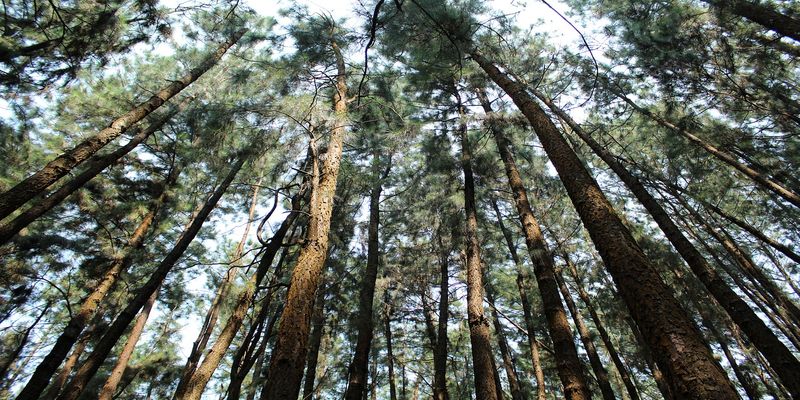 The Pine Forest of Vagamon, located at the edge of the Western Ghats in Kottayam, offers a particular charm to Kerala's tropical terrain. In fact, it's unusual to come across such a magnificent forest in a tropical paradise. A large section of the forest is covered in tall pine trees that all grow on steep edges. As a result, the woodland is an excellent location for a gentle hike. A picnic in the woods can be enjoyed by families, couples, or groups of friends.
Activities: Trekking, Nature walk, Sightseeing
How to reach: Murugan mala is 4km away from Vagamon bus stop
Entry fee: Rs 10 per head
6. Suicide Point (Moonpara)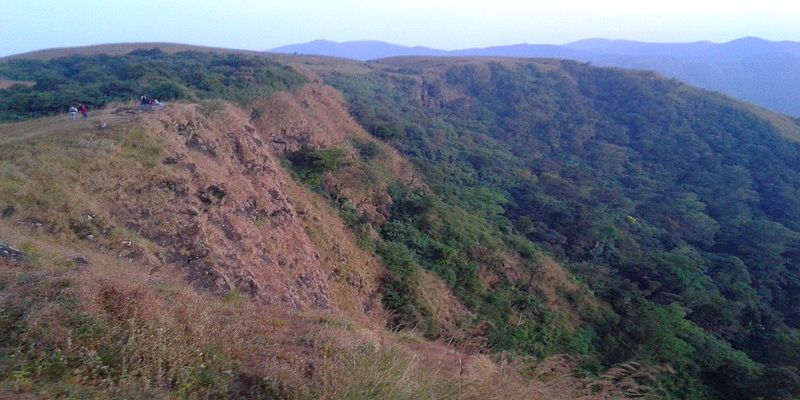 Suicide point also known as Moonpara is a tourist favorite. With stunning views of the abundant green valleys and hills all surrounding Suicide point. The point is near thangalpara which is another famous viewpoint in Vagamon.
Activities: Moderate trekking can be a little exhausting but the view at the top is absolutely worth it.
How to reach: Suicide point is 8 km away from Vagamon bus stop.
Entry fee: Rs. 10 per Person
7. Thangal Para
Located 2500 ft above sea level Thangal Para offers the most magnificent views of the green meadows and lakes in Vagamon. The Thangal para is a remarkable rock structure on top of a rocky hill that is revered by devotees for its religious and spiritual importance. Sheikh Fariduddin, an Afghan Sufi saint, is thought to have lived and died here 800 years ago. On top of the hill, there is a massive round rock structure that worshippers say the saint used to grind Pan. The rock began to grow massively after the saint's death, and the saint's tomb is located directly in front of the massive rock. There is a well as well as a small mosque and prayer centre.
Activities: Short trek and sightseeing
How to reach: Thangal Para is 7 km away from Vagamon bus stop
Entry fee: Free
8. Kurisumala
Kurisumala is a sacred hill that every spiritual seeker must visit. The sacred hill is engulfed in a mist that deep freezes all your troubles and allows you to feel a wave of tranquillity that calms the souls of those who visit. Kurisumala is a Christian pilgrimage place surrounded by beautiful foliage and tea gardens, which add to the grandeur of the large hill and enhance the experience. Because of the strategic location of 14 crosses, Kurisumala is a Malayalam word that translates to 'Mountain of the Holy Cross.' During Good Friday you can see people visit from various parts of the country climb the hills carrying wooden crosses.
Activities: Trekking and sightseeing
How to reach: Kurisumala is 6 km away from Vagamon bus stop
Entry fee: Free
9. Echo Point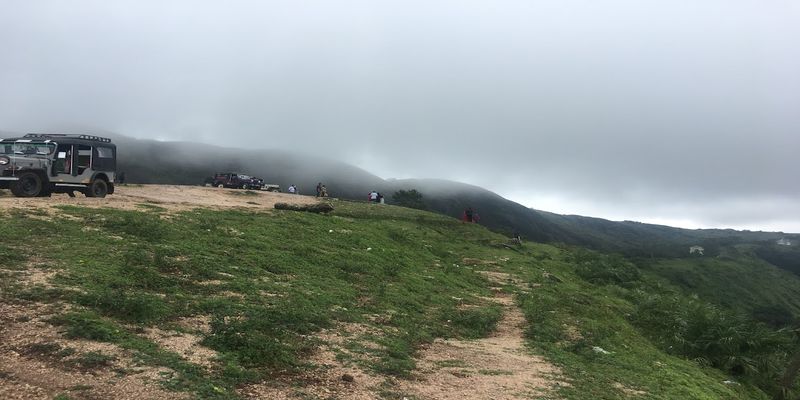 The famed Echo Point is one of the most serene views you will experience in Vagamon. Located around 6 km away from vagamon town, echo point is a viewpoint showing you the birds eye view of the beautiful valleys covered in mist, surrounding the vantage point.
Echo Point is famous for its natural phenomenon of producing echoes of your voice when you scream. Thus given the name 'Echo' Point.
Activities: Sightseeing, Photography
How to reach: Echo point is 6 km away from Vagamon bus stop
Entry fee: Free
10. Kaithapathal Viewpoint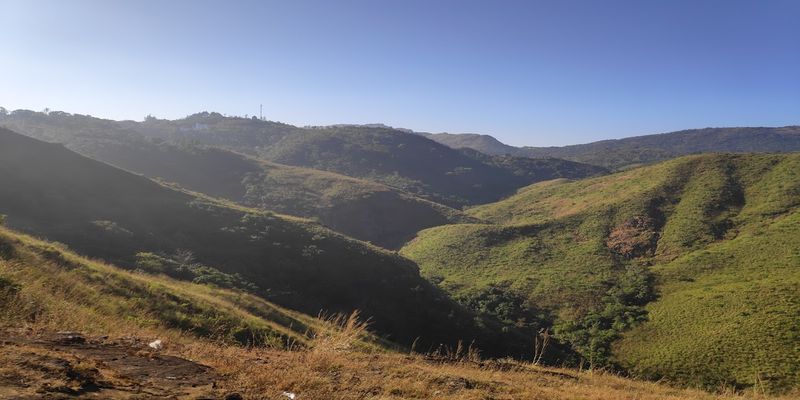 The location is known for its breathtaking views. The area's environment is primarily grassland Shola forest, with scattered bamboo woods interspersed. Despite the fact that Kaithapathal has the potential to become a worldwide tourism attraction, visitor numbers are low.
The best time to visit is after the monsoon, as there will be more mist and fog during the monsoon. Mornings at Kaithapathal offer the best views.
Activities: Trekking, Photography
How to reach: Kaithapathal view point is 2 km away from Vagamon bus stop
Entry fee: Free
Resorts in Vagamon
There are lots of resorts and homestays available in Vagamon. But if you are planning to have a peaceful and private holiday stay with your friends and family. It is recommended to book your stay at VOYE HOMES. We currently have 7 properties in Vagamon featuring all your favourite types of holiday homes. Choose your next stay at VOYE HOMES.
Private Mountain Villa Vagamon
Read Next: Discover the Best Resorts In Vagamon – Novella Vagamon.