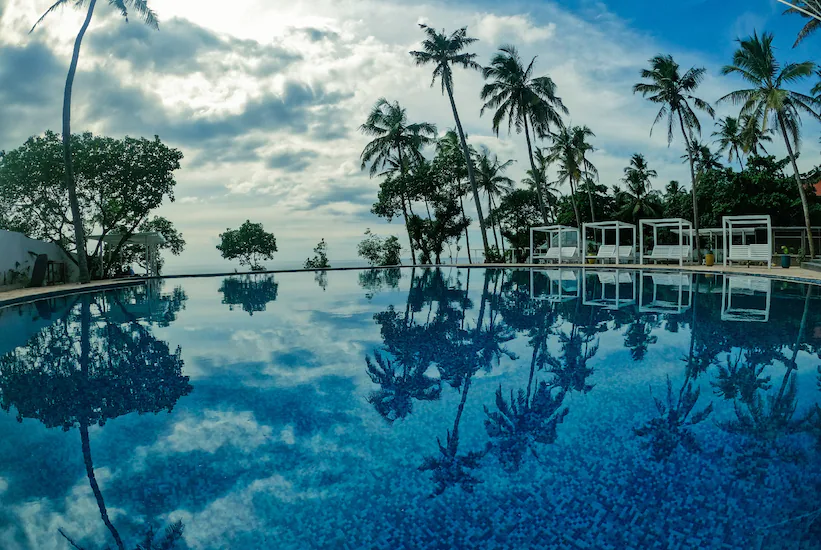 Still confused regarding the Best stay option in Varkala?. The wait is over, plan your next Varkala cliff resorts stay in Kerala where you can have the best ambience, beachfront, enjoy private beaches 24*7, infinity swimming pools, and peaceful nights where you could fall asleep without any worries.
Here are our picks for the Top 5 Varakala Cliff Resorts in Kerala:
Cliff Stories, Varkala
Elixir Cliff Beach Resort, Varkala
Trip is Life, Varkala
Willmount Cliff Resort, Edava, Varkala
Seashore Beach Resort, Varkala
Situated on the top of the cliff with an amazing view of the beach, Cliff Stories provides an ambience to create a memorable story in your mind itself. Private beach, restaurant, beautiful gardens, and secured rooms with all modern conveniences and comforts are the highlights at Cliff Stories.
 In addition to that many other outdoor activities, yoga facilities and water sports are available with additional charges. It is one of the top-rated villas in Varkala with 10 deluxe rooms and is in proximity to a few popular tourist attractions, and also provides easy connectivity to major transit points of the city.
Price starts from INR 2500 (approx)
Location : Perumkulam, Varkala, Kerala 695141
2. Elixir Cliff beach resort
Luxurious beach resort in Varkala Cliff within the stunning natural settings that offers you a unique experience. They offer a perfect blend of nature and luxury in Varkala with a private beach, perfect rooms, a contemporary unique waterfront swimming pool, and day use rooms best for workcation with a spacious desk and distraction-free environment. It is situated in Perumkulam, Varkala with all transit facilities to all cities and tourist spots.
Elixir Cliff offers the best living experiences with three categories of rooms – The Seaview Suite, Jacuzzi Seaview Suite, and Partial Garden View Suite which are spacious, and well-maintained with balconies providing you the best view of the Arabian Ocean. Adventurous water sports experiences like surfing, stand-up paddling, Kayaking, boating, and Spa & Yoga services are available to make your day peaceful on the seaside.
Price starts from INR 8000 (approx)
Location : 21/346 Perumkulam, Varkala, Kerala 695141
A luxurious A-frame cabin resort located near Aaliyirakkam Beach, Varkala. It is one of the best cabin resorts on the cliff overlooking the Arabian Sea. This beautiful private resort provides you with an experiential stay where you could enjoy the view of the ocean, sky, and sunset from your bed. The property is a work of art, and the staff provides excellent hospitality and services.
Also, the vast lawn outside, the patio, and a private outdoor pool are the major highlights at Trip is Life. The wide open area is best for conducting Destination Beach Weddings, Birthday parties, and other events with all facilities that can accommodate a gathering of 25 or more.
Price starts from INR 20,000
Location : South Cliff Perumkulam, Varkala, Kerala 695141
4. Willmount Cliff house Varkala
One of the best cottages in Varkala for travellers that offers a private beach area, and wide open outdoor spaces that provide you a homely feel away from the crowd center. The amazing coconut grooves, perfect greenery, and sea breeze here make your soul pleasant and calm. This cottage has a vast open area making it suitable for conducting birthday parties, family gatherings, etc.
Wide open area with a private parking area, deluxe rooms in separate cottages that are well equipped, and the terrace area with a beautiful view where you spend time are the top highlights at Willmount Cliff Resort, Varkala. It is situated in Edava Varkala and is 5.30 km away from Sivagiri.
Price starts from INR 5000 (Approx)
Location : Sree eight, Edava, Varkala, Kerala 695311
Seashore Beach Resort Varkala is one beautiful resort in South Cliff, Varkala with a magnificent view of a white sandy beach. With the view of the sea, there are 05 standard rooms and independent 04 deluxe rooms near the beachside. It provides a best bed & breakfast (B&B) accommodation in Varkala.
The other facilities available here include local site seeing trips, backwater trips, elephant rides, etc. The location is serene and calm for couples. Also, it is situated within a short distance of Varkala Beach, Odayam Beach, and Aaliyirakkm Beach.
Price starts from INR 3300 (approx)
Location : Varkala, Kerala 695141
To Book Resorts in Varkala Click Below
Want to explore other beautiful destinations in Kerala? Check out VOYE HOMES official website
Read our favourite blog posts: