Why a Beach Wedding in Kerala need to be in your Bucket list!
Imagine the lovely breeze rustling through your hair as the waves lap against the coast, you can clearly hear the birds chirping while listening to the calm instrumental music, the scent of salt in the breeze, and the russet hues of a sunset brightening your cheeks. Everything is just as you'd hoped it would be.
Beaches are, without a doubt, fantastic locations for destination weddings. They exude a calm aura, giving you the chance to exchange vows outdoors, with the calming sounds of the ocean playing in the background. Magnificent Kerala seems to have a plethora of options in terms of destination weddings and wedding venues.
With its abundance of natural grandeur featuring beautiful coastlines, backwaters, and verdant hills, Kerala is quickly rising to the top of the list of popular wedding locations. One of the best beach wedding choices, unquestionably, is a destination wedding in Kerala.
With mouth-watering cuisine, thrilling activities, and recreation facilities, Kerala is ready to host beach weddings with elegance and class. Whether it's a western-style wedding, a traditional wedding, or even the greatest location for an eco-friendly wedding, your guests are sure to have lifelong incredible memories. For those of who have an adventurous spirit and want a stress-free wedding, having a beach wedding in Kerala is an ideal endeavour.
Kerala beach weddings connote the bounties of the untamed wilderness and the deep, calm sea. Your wedding will undoubtedly be a divine delight of a lifetime when these two intimate and powerful elements attest to your love and confer their blessings.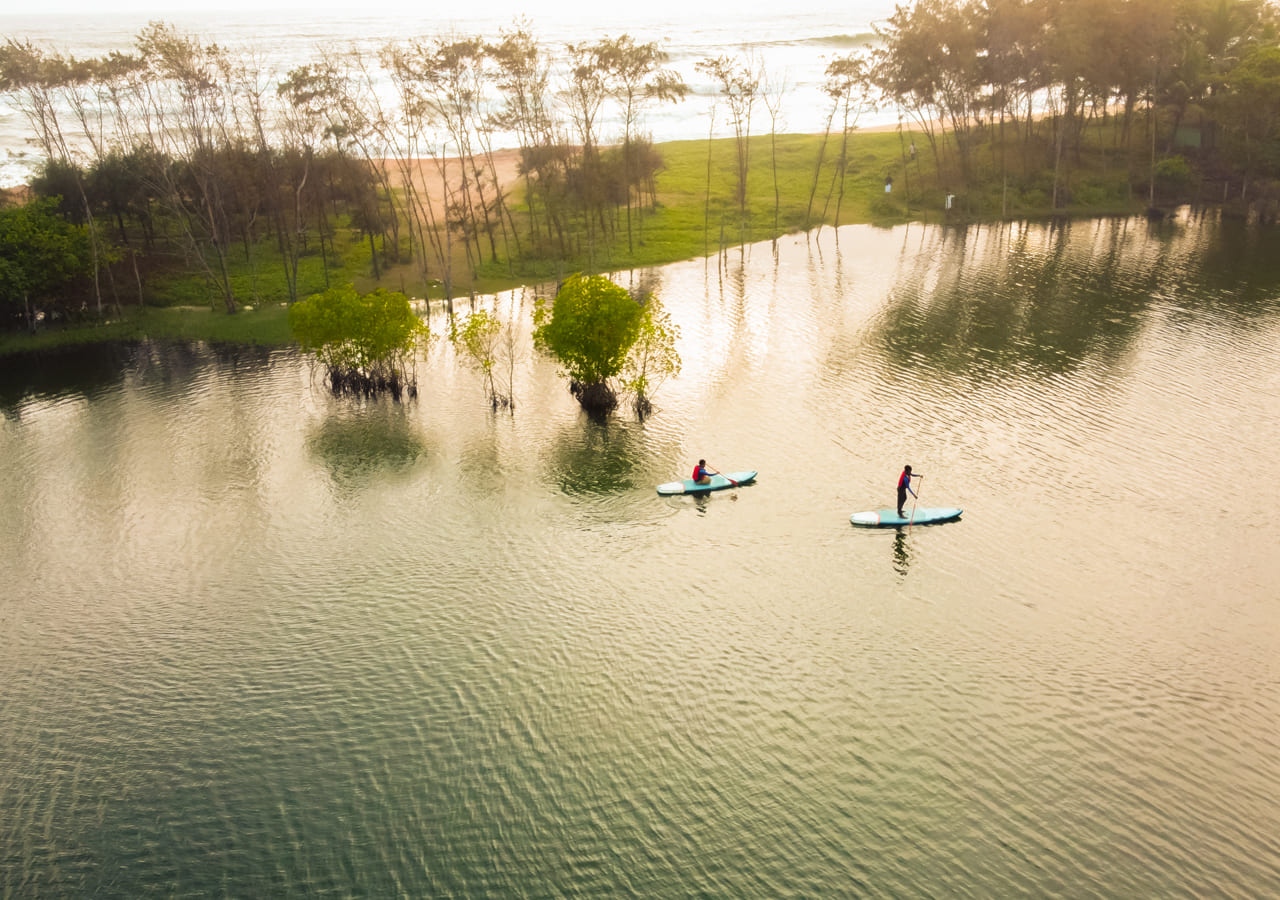 Varkala is incredibly gorgeous, with a never-ending stretch of sugar-white sand beach, glistening cerulean waters, and a mountain cliff above the beach. Varkala offers a variety of exotic settings and wholesome cuisine on-site for various ceremonies, and the accommodations provide the ideal view of the Arabian Sea. Varkala has become one of the main locations for beach weddings in Kerala due number of wedding resorts, wedding venues, budget-friendly destinations wedding event planners, and accommodation facilities.
Kappil Beach in Varkala, which is 51 kilometres north of the city of Thiruvananthapuram, offers a wide range of different activities and is a perfect place to unwind. Varkala Cliff's distinctive quality is its appearance as a dramatic horizon blending into the Arabian Sea. Varkala is so breathtakingly beautiful that no amount of words could do it justice.
Kappil Beach Wedding Venue
Majestic Retreat by VOYE HOMES is a beautiful property with a view of backwaters and is situated next to a magnificent beach. This outdoor wedding venue is a wonderful blend of design and a wide array of hospitality, providing unmatched personalised service and comfort. Accommodation capacity of around 50 pax in the resort, and 500 floating guests without any problems in the open lawn area and terrace area for any events, especially weddings events and family gatherings.
If you want to get away from the bustle of the city while yet providing your guests with a stunning spot to stay, Majestic Retreat by VOYE HOMES is the ideal location. This lake and beach resort in Kappil, Varkala meets all your needs with its picturesque surroundings and breathtaking seaside and backwater views. Moreover, if your plan is for a  budget destination wedding in Kerala including all decors and event planning this resort will an ideal choice.  Canoeing, Surfing, and a spa with a variety of treatments and massages are also available.
It goes without saying that a wedding at this tranquil lakeside property with a view of the ocean would be very stunning. Majestic Retreat has everything you'll need for your dream beach wedding, including stunning vistas and natural surroundings, first-rate services, and delectable coastal cuisine. Where else but on a shore that has truly withstood the sands of time could we swear a relationship that will last until death separates us?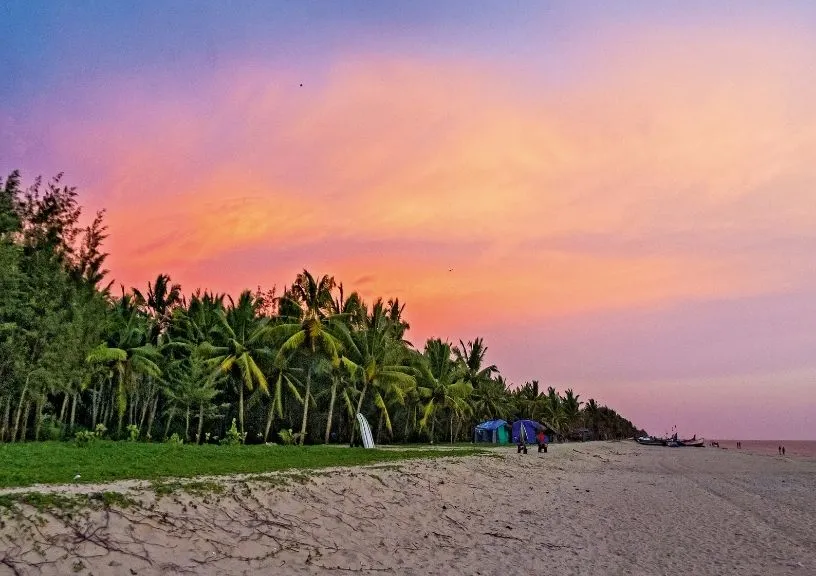 The Marari Beach offers elegant simplicity in a beautiful location with a view of Kerala's stunning coastline, all amid 30 acres of coconut groves, lily ponds, and organic farming. Marari Beach, which is located in the seaside town of Maraikulam, is the ideal combination of a beach and backwaters, making it the ideal location for a small or big wedding. Also a perfect spot for Pre-wedding and post-wedding photoshoots. The butterfly garden is the perfect setting for unique wedding photos, or take a stroll down the beach to capture your priceless memories with the Arabian Sea as a backdrop.
Marari Beach Wedding Venue
Marari Beach Resort is a perfect spot that hosts many beach weddings and other ceremonies. It is an ideal location with a combination of luxury and natural beauty where you can make your wedding the talk of the town itself with the best Destination wedding planners.
Kovalam Beach, Trivandrum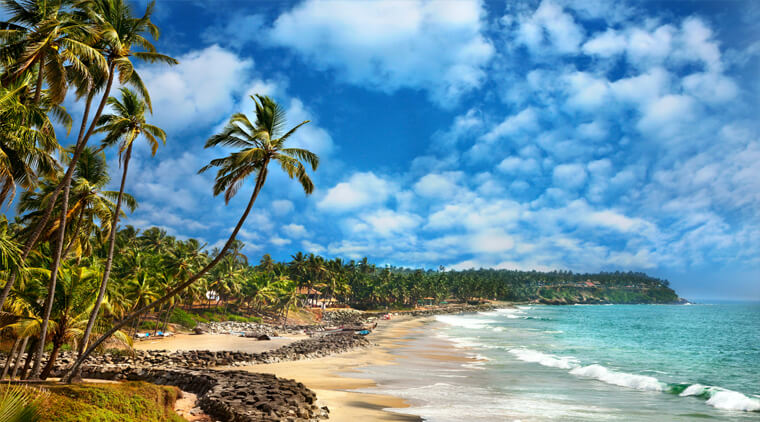 Kovalam, an internationally renowned beach wedding location, is about 16 kilometres from Trivandrum. The three crescent beaches of Kovalam, which sit by the Arabian Sea and are framed by enormous palms, are divided by rocky outcroppings in the shoreline.
For people who are planning beach weddings in Kerala, Kovalam has been a perfect location due to its accessibility from the Trivandrum Town, Banquet halls, and other wedding venues in Trivandrum. Destination wedding resorts are becoming higly demanding due to all their facilities for pre-wedding, post-wedding shoots, and wedding functions.
Budget cottages, five-star hotels, wedding resorts, Ayurvedic health resorts, convention centres, commercial areas, private pools, and yoga and Ayurvedic massage studios are all located inside the beach complex. Sunbathing, swimming, herbal body-toning massages, unique cultural events, and a catamaran cruise are just a few of the many leisure activities that might make your beach wedding the perfect day of your life.
Kovalam Beach Wedding Venue
Wedding Venue The Leela Kovalam, a Raviz Hotel is one the best option for planning a beach wedding in Kovalam The panoramic view of Kovalam shorelines and the semi-private beach offers you a grant 5- star beach wedding. Also, multiple event spaces to add more colours to your wedding depending on your wish like either poolside, terrace or outdoor lush green and wide lawn area are available.
A heavenly beach for your dream wedding is Cherai Beach Kochi, also known as the Golden Beach of Kerala. It is one of the most visited beaches in Kochi and is located at a distance of 34 km from Kochi. An area of mind-pleasing beauty, dolphins in their natural habitat and unique seashells increase the attraction of this place. At Cherai, ample number of options are available like wedding resorts, banquet halls, and outdoor décor options at every price range.
Cherai Beach Wedding Venue
Maliekal Heritance Cherai is one of the ideal wedding resorts that has spacious banquet halls, lush green lawns as well as an in-house décor team that makes the stunning venue much more attractive. Another beach and backwater resort is Cherai Beach Resort with banquet halls and open areas ideal for events like pre-wedding functions, weddings, and receptions
More Private Wedding Destinations in Kerala
Get in contact with VOYE HOMES, and we'd be happy to assist you in organising your wedding in Varkala and Wayanad, the beach paradise and hill station respectively, and in styling it in a way that honours the lovely you and the beautiful state of Kerala.