Attappadi is a nature lover's and backpacker's dream town located on the foothills of the Silent Valley National Park, 38 kilometres away from Mannarkkad. It's also a great place to visit if you enjoy wildlife and greenery with plenty of trekking and camping opportunities. Hetre is the Backpackers Guide to Attappadi – Sholayur.
Attappadi is one of those pleasantly beautiful places you don't want to miss out on. The majority of this gorgeous and alluring village town in Kerala is protected by the government as a Reserve Forest area therefore it is filled with beautiful flora and fauna. Attappadi has a hilly terrain and is surrounded by mountains, forests, and rivers. As a result, it is one of Kerala's most appealing tourist destinations. Not only is Attappadi associated with the beauty of nature. You can see many tribal people who have been the inhabitants of the area for a long time.
Sholayur is a village in the Attappadi Block of Kerala's Palakkad district.
Let's explore some of the best places to visit in Sholayur, Attappadi to experience its true natural beauty.
Best Time To Visit
It gets very hot during the summer season at Attappadi. So it is recommended to visit in the months from September to May when the climate is cool and cozy.
How to Reach Attappadi
Travel By Air: The nearest airport is Coimbatore International Airport.
How to Travel By Train: The nearest railway station is the Parli railway station located about 30 km away.
Get into the destination By Road: You can get to Attappadi in your own vehicle or by public transportation.
Things to do in Attappadi
1. Explore Silent Valley National Park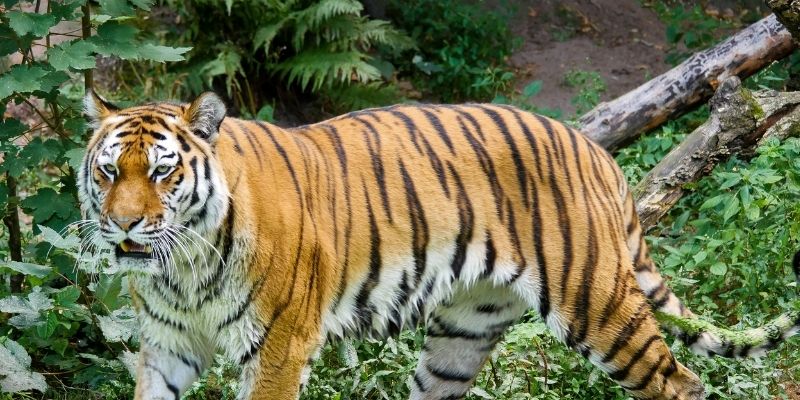 Silent valley is a beautiful nature park located in the Palakkad district. The park is home to a wide variety of animals ranging from Tigers, Leopards, Elephants, Snakes, Lion-Tailed Macaques, and Malabar Giant Squirrels to moths, beetles, and toads. Along with them, visitors may see over 1,000 varieties of flowering plants and 110 species of orchids, all of which enchant visitors. There are around 400 species of moths and 200 kinds of butterflies recorded here. The 128 species of beetles are particularly noteworthy because ten of them were previously unknown to humans. This is all because the park is well maintained by the reserve forest government.
2. Malleswaran Peak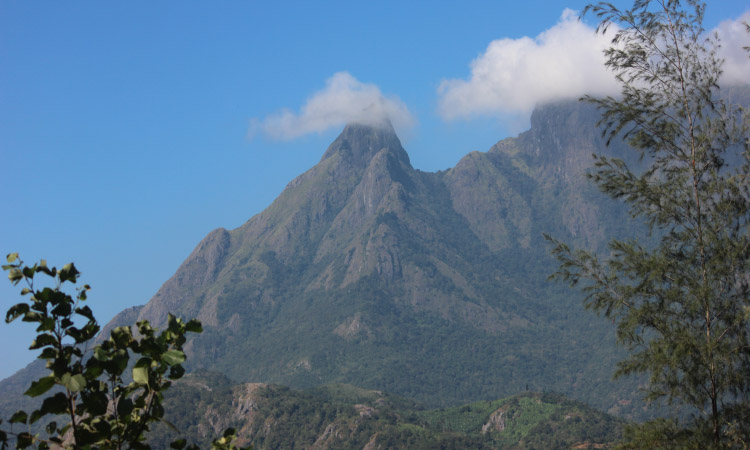 Malleswaran Peak or Malleswaran Mudi known by the locals is the highest peak in Attappadi that is famous not only for the adventure lovers, but it also has religious significance because one of the major Hindu festivals such as Mahashivratri is celebrated in a larger-than-life way here, and it is regarded a perfect place for sanity and peace. On your next vacation to Attappadi, be sure to satisfy your inner adventurer by visiting Malleswaram Peak.
3. Camping at Voyehomes Whispering Hills – Pine_Encamp
VOYE HOMES Whispering Hills, Sholayur is undoubtedly one of the best Holiday camping spots in Sholayur – Anaikkatti region in Palakkad, Kerala. Blend yourself with the beauty of Siruvani hills and experience the warm hospitality at Sholayur, Switzerland of Kerala. This Backpackers Guide to Attappadi will help you to find the best stay options in Attappadi.
VOYE HOMES Pine forest camping, Jellipara is spread over 70 acres of alluring grassland in the midst of the Siruvani forest region of Western Ghats. Hill view from this spot is just spectacular. The sprawling forest, which merges with the woods of Tamilnadu, is home to the popular tourist destination of the Palakkad district. This is the place for anyone who wants to escape the emotionless city life and enjoy authentic nature.
4. Attappadi Reserve forest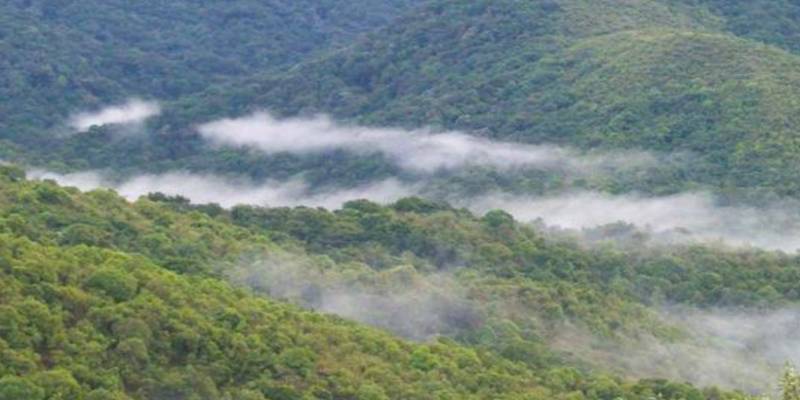 Attappadi Reserve Forest is a 249-square-kilometer protected area in the Mannarkad Taluk of Kerala's Palakkad district. This Attappadi hamlet is an extensive mountain valley that is bordered on the east by Coimbatore district, on the west by the Nilgiri Hills, on the south by Palghat taluk, and on the west by Mannarkad taluk.
Attappadi reserve forest is home to a breed of goats with black skin color known as "Attappadi Black". The Bhavani River flowing from the northwest around the mountain, through Attappadi village and proceeding towards the southeast side, is a natural gem that is a must see for visitors.
5. VOYE HOMES Shining Igloo Caves Attappadi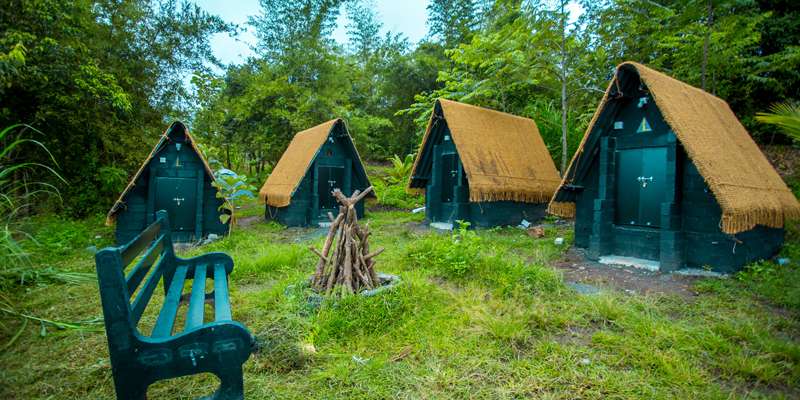 Imagine stepping back in time and experiencing the cave life for a while at the incredible VOYE HOMES Igloo Caves. Located in Varagampadi around 40 km from Mannarkad it offers a breathtaking view from a breathtaking spot.
Surrounded by the lush green mountains, a number of activities come with all the ingredients for an adrenaline junkie. Away from the bustles of busy life, the Mountain View resort is a perfect spot for backpackers and solo travelers and it ensures a calm and comfy stay amidst the richness of nature fully equipped with modern amenities including a swimming pool.
6. VOYE HOMES Shining A Caves – Attappadi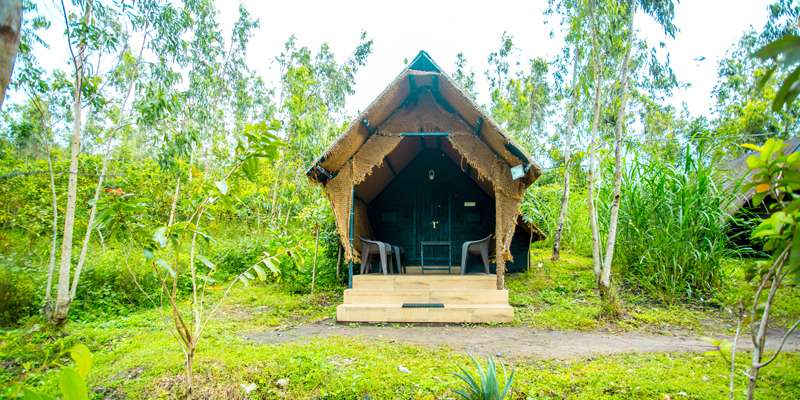 VOYE HOMES A-Caves offers a hills slope terrain in the middle of the grassland with enough space to set up tents and A frame buildings, so this Hill view resort will be suitable for large groups. With mild wind speed, you can experience rapid fog movement over the area. A-Caves with its structure shaped like the letter A offers a spacious stay with a Swimming pool which is yet another major attraction in the middle of the grassland. Other activities like trekking, cycling, horse riding and jeep safari are also available here. This can be the best Backpackers Guide to Attappadi.
7. VOYE HOMES Shining -O-Caves Attappadi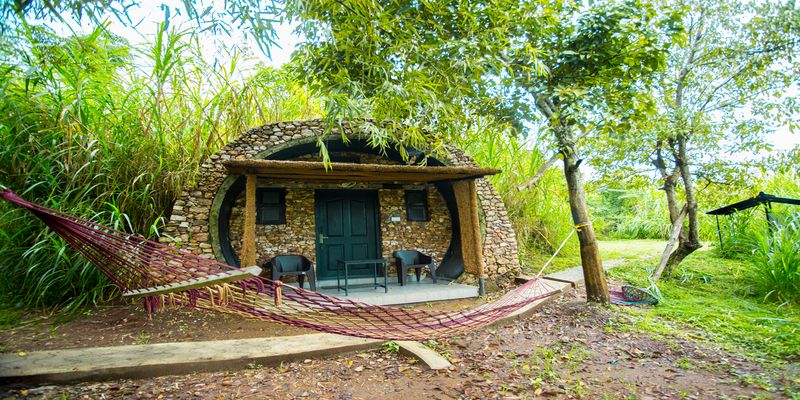 VOYE HOMES O-Caves is yet another hill view resort that offers a private cave house, swimming pool, free cycling, trekking and hiking, off-road jeep safari, horse rides, view of siruvani forest valley, vegetation | farming, visit tribal life, farm stay & visit, ATV, fishing, waterfall visit, outdoor games & indoor games, village walk, campfire with music. Because of the O-like form of its construction, it is called O-Caves. Backpackers Guide to Attappadi will surely help you to find the best attractions & stay options in Attappadi – Sholayur.
Recommended Reads: Panchalimedu – Find The Best Hill Stations In Idukki Kerala
150 Year Old Manale Luxury Tea Plantation Bungalow In Munnar – Voyehomes