Varkala is a beautiful coastal town and is known for its stunning beaches, vibrant culture, and ancient temples. The town is surrounded by lush green hills and serene backwaters, which make it a popular destination for tourists seeking relaxation and tranquility. Varkala is home to several stunning lakes, Visitors can enjoy a peaceful boat ride on the lake or simply sit on the banks and soak in the picturesque view. 
If you are planning a journey to Varkala and want to stay somewhere with beautiful views of the peaceful lakes, you will be spoiled for choice. There are numerous Lake View Holiday Homes in Varkala that provide comfortable and opulent accommodations as well as breathtaking vistas of the lakes. VOYE HOMES' Majestic Retreat beach resort is a lake and beach resort in Varkala. It is, as the name suggests, a perfect retreat for those on vacation.
Majestic Retreat Beach Resort Varkala by VOYE HOMES
Lake View Holiday Home Majestic Retreat Beach Resort in Varkala is a peaceful and serene getaway. This villa in Varkala offers a perfect blend of modern amenities and traditional Kerala architecture, making it an ideal spot for relaxation and rejuvenation. The rooms are spacious, well-equipped, and offer a stunning view of the lake and the surrounding greenery. The most appealing aspect of this villa in Varkala is the stunning lake view from the resort and the private beach, which is only a few minutes' walk away after traversing the lake. The property, which is dotted with coconut grooves and other trees, has Deluxe AC rooms and two Lake View suite rooms with all the amenities. Kayaking, Canoeing, Beach Surfing, and Lake Supping are the major attractions at this Beach Resort Varkala.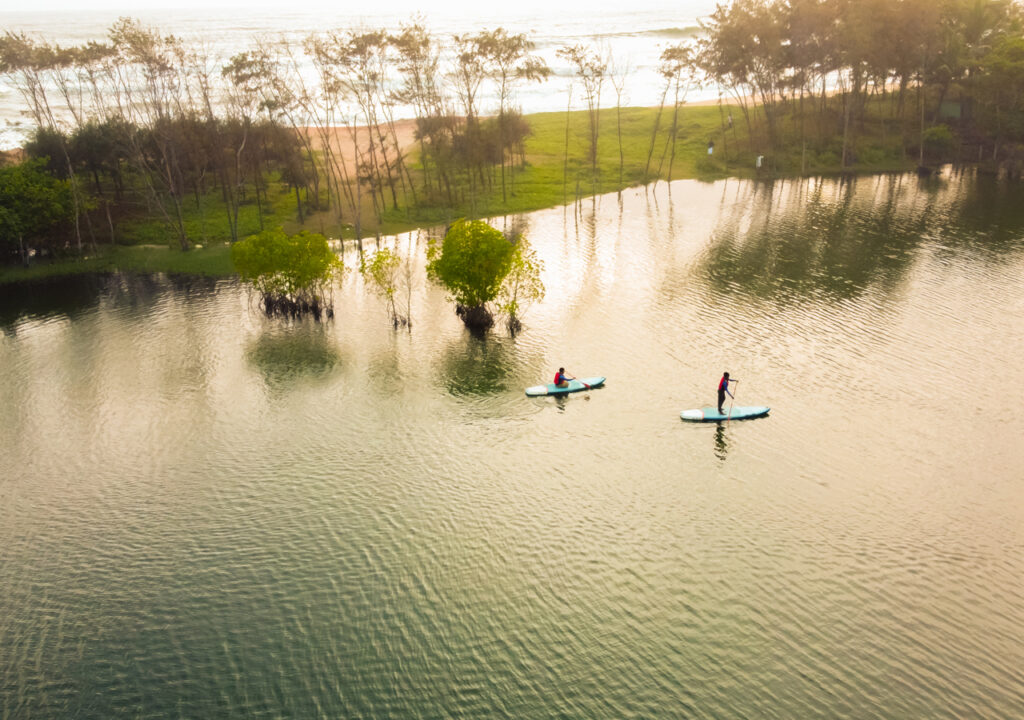 Lake and Beach Resort          
Deluxe AC Bedrooms   
Lakeside Suite Rooms 
Close to Kappil Beach and Backwaters            
Varkala Beach 
Lake Supping 
Lake Safari 
Beach Surfing 
Canoeing 
Private Beach 
Sea Food 
Outdoor Wedding/ Party Area        
Majestic retreat beach resort is a beautiful and serene destination that offers a range of activities such as beach surfing, lake supping, Indoor activities, lake safari and canoeing. For those interested in wildlife, a visit to the elephant park is a must-do activity, where visitors can interact with these gentle giants and learn more about them. Munroe Island is another popular attraction, located near Majestic retreat, where visitors can explore the scenic backwaters on a boat ride and learn more about the local culture and way of life. With so many activities to choose from, Majestic retreat beach resort offers a perfect blend of relaxation and adventure, making it an ideal destination for all types of travelers. 
Why Majestic Retreat Resort
If you're planning a trip to this charming location, staying at Majestic Retreat beach resort should be at the top of your list. The resort provides visitors with a luxurious stay by providing comfortable accommodation, personalized services, and contemporary amenities. Furthermore, the resort's proximity to beaches, lakes, and other famous attractions makes it an ideal location for learning about the local culture and way of life. Beach surfing, lake safaris, and elephant park trips are among the other activities available to visitors. Overall, a stay at Majestic Retreat beach resort in Varkala promises to be an unforgettable experience combining luxury, natural beauty, and adventure, making it an ideal holiday destination for all types of travelers.
Looking for Resorts in Kerala? VOYE HOMES offers private holiday homes all over Wayanad and Kerala at affordable rates. Click below and book your next vacation