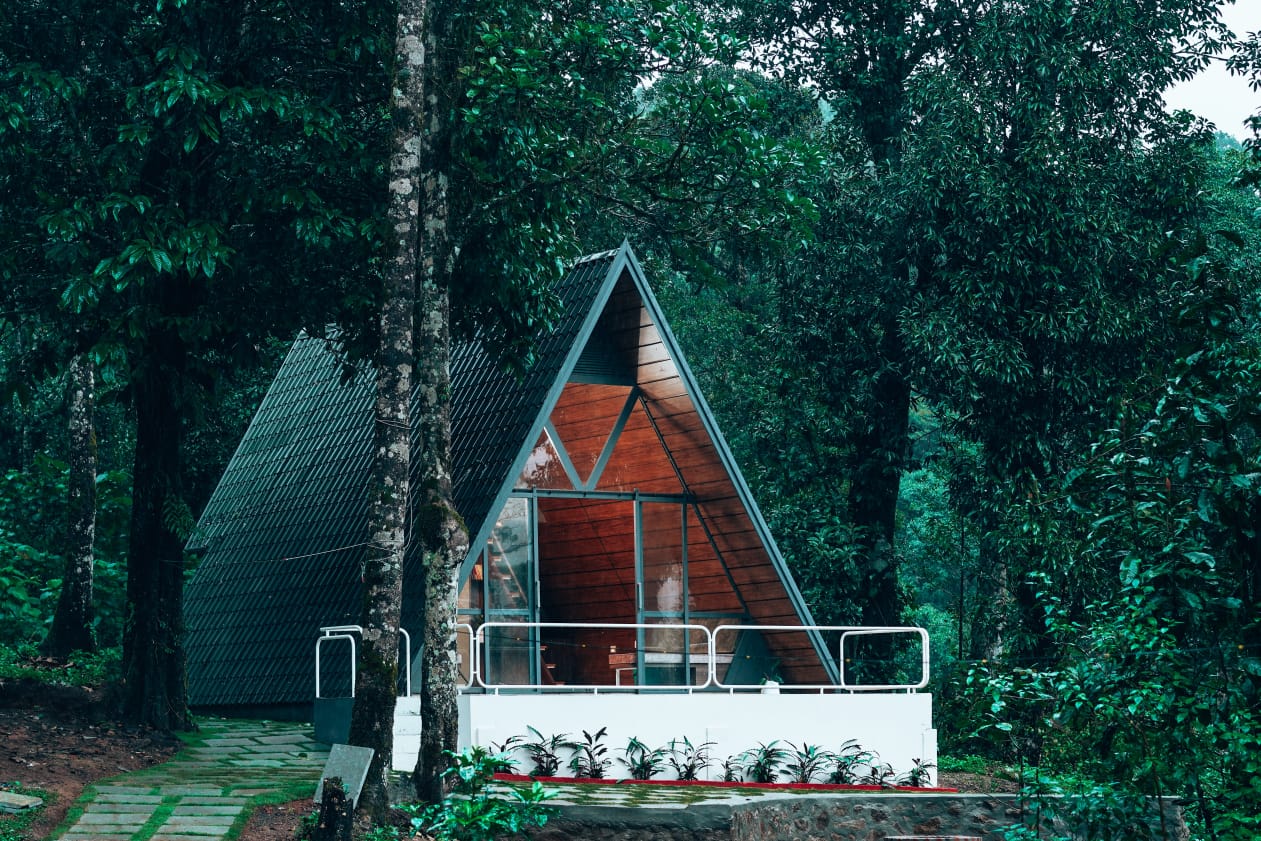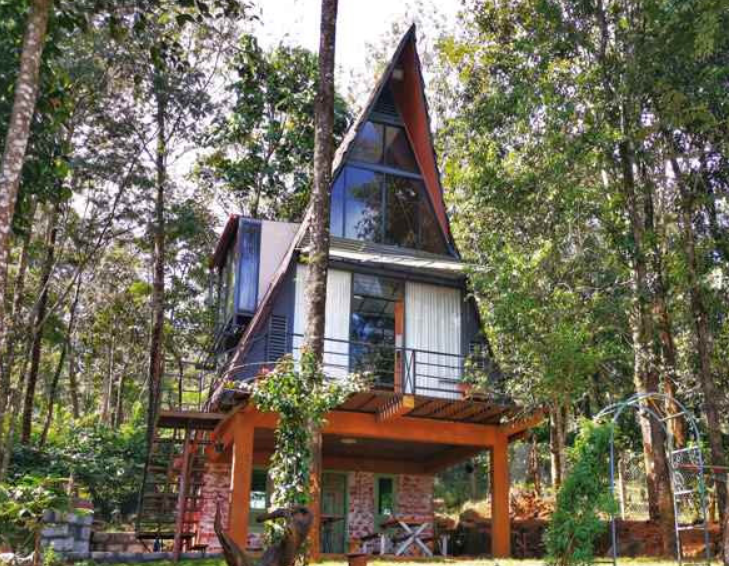 An A-frame cabin is a compact, triangular-shaped house with a steep roof that slopes down to the ground on all sides. The shape of a conventional A-frame house, which has a triangular roof and a roomy, open interior with high ceilings, served as inspiration for the design of the A-frame cabin.
A-frame cabins are frequently constructed in beautiful rural settings and are utilised as second homes or as holiday homes/resorts. Depending on the tastes of the owner, they may be small and basic or larger and more luxurious. A-frame cabins are a popular option for people wishing to get away from the city and enjoy the great outdoors because of their cosy, rustic charm.
A Frame Cabins & Resorts in Kerala
There are several A Frame cabins and  resorts in Kerala that provide a variety of stay choices to accommodate various budget and preferences. Consider staying at one of the Kerala resorts listed below when you go there:
1. Vaganza Resorts A Frame Cabin
Vaganza A Frame Cabin is a cozy A Frame resort located deep in the woods of 900 Kandi in Wayanad. Their A Frame Cabin offers full privacy to its guests whether it be for honeymooners, family or singles looking to escape the city life and dwell in nature. They also offer stream hiking, waterfall visit, trekking, river bath and campfire to their guests.
2. The Cove Lakkidi A Frame Villa
The Cove Lakkidi by VOYE HOMES is a lovely A-framed villa located in Lakkidi, Wayanad. This A Frame Villa in Wayanad has four bedrooms with all modern amenities and small balconies with magnificent views. Another feature of this A-frame Villa in Lakkidi is the internal hardwood frame and a feel-good atmosphere. The sounds of nature and the streams that flow along the frontage of this property provide a complete experience for those who stay here. You can also avail campfire & bbq facilities here.
3. Tentgram A Frame Cabin
Tentgram's 'A-Frame Cabin' at 900 Kandi Wayanad is the first of its kind experiential stay cabin that promises both comfort and utmost privacy. This is the perfect choice of stay if you're looking to devour the wilderness in the comfort and privacy of a place just like your home. Tentgram also offers activities like offroad jeep ride, stream hiking, campfire and forest trekking
4. Wildroot A Frame Villa
Wild root stay is a combination of luxury camping and outdoor accommodation with a great view over the Chembra peak ,one of the best family stay in Wayanad. It offers accommodation in a valley view, close to the nature, with a comfort near of a farm stay camping feeling. It is hidden in the highland surrounding the mountain of Sugandhagiri hills one of the least touched natural areas in Wayanad. Many attractions are available within an hour drive like bamboo rafting, zip line, trekking area, natural streams, tea gardens, coffee groves and many other heritage places
5. Willmount A Frame House
The Willmount allows you see the wild side of the tea town of Munnar. It is modest yet well-liked for its distinctive design and accommodations. The resort is well-liked by those who enjoy outdoor activities and adventures but are willing to forgo creature comforts in order to be close to nature. The lodging consists of eight unique cottages and cabins that are sparsely furnished and spread across 3 acres of gorgeous greenery.
6. Breeze Garden A Frame Villa
Breeze Garden is the ideal location for a singular and peaceful experience in the midst of stunning scenery. By spending more time quietly with your family and friends while being rejuvenated by nature, this magical environment enables you to recharge your routine. Reconnect with nature at a wonderful getaway in this stylish and distinctive A-frame villa with balcony and attached bathrooms.
Looking for Resorts in Kerala? VOYE HOMES offers private holiday homes all over Munnar and Kerala at affordable rates. Click below and book your next vacation.